Add daylight into your room with Lantern Roofs
Date: 26/02/20
If you want to add daylight into an orangery or flat roof extension, adding lantern roofs is a great way to do this. Lantern roofs are modern, great value for money and fast and easy to fit. This makes lantern roofs an ideal choice for your home improvement project.
Ways to use lantern roofs
There are various ways that you can use lantern roofs on your home improvement/home extension project. The most common uses for lantern roofs are:
Adding lantern roofs to an existing flat roof extension to bring in natural light from above
Adding lantern roofs into a new flat roof extension
Adding lantern roofs into an orangery
Adding a lantern roof into the ceiling space of a landing
Wherever you choose to install your lantern roof, we are sure that you will love the amount of natural daylight that it will bring into the room below. This will light up previously gloomy corners of your home, making them feel light, bright and airy. Not only will the room with the lantern roofs benefit from the natural light, but any adjoining rooms will also receive extra light.
Of course, if your extension, orangery or landing is large enough, you may even want to fit 2 lantern roofs. Side by side, several lantern roofs not only look stunning but also bring in double the amount of daylight.
Here are the top 5 reasons why lantern roofs are a great way to add daylight into your room:
Lantern roofs flood the room below with natural light. Lantern roofs are a fantastic option for adding daylight if you have a flat roof extension or are planning an orangery. The Ultrasky Lantern Roof from Ultraframe boasts a minimalist design with 25% fewer bars than other lantern roofs. This means that there is more glass and fewer bars – meaning more light in the room below.
Lantern roofs suit both modern and traditional homes. Whether you are adding lantern roofs into a traditionally styled orangery or an ultra-modern flat roof extension, they will make the perfect addition. This is because the design of lantern roofs is so simple in terms of appearance, that they lend themselves to both looks. This makes lanterns roofs a really versatile product.
Lantern roofs are a cost-effective way to transform an existing room. If you have a dark and gloomy flat roof extension or corridor that could benefit from extra daylight, roof lanterns are a great way to achieve this. While some home improvement projects can cost tens of thousands of pounds, roof lanterns can completely transform an existing space and will typically cost less than £5000. This is a modest budget for something that will bring so much benefit into your home. Of course, this cost will depend on the size and specification of your lantern roofs and how complex the installation is, but lantern roofs are certainly a great value for money option to bring daylight into your home.
Will roof lanterns increase the value of my home? Yes, roof lanterns will increase the value of your home. This is because anything that brings extra light into your home will boost its value. Natural daylight makes any space feel larger and more inviting. These are both factors which will contribute to the value of your home. Not only will roof lanterns increase the value of your home, but they will also increase the saleability. This is because a home that is filled with natural light is on the wish list of most home buyers.
Roof lanterns are fast to fit. A roof lantern is one of the fastest home improvement projects to carry out, that will make a strong impact on your home. Most roof lanterns can be fitted within one day. This means that there will be minimal mess or disruption in your home and that your new light-filled home can become a reality very quickly.
As you can see, there are many reasons why roof lanterns are a great way to bring lots of natural daylight into your orangery or extension. Aside from the reasons listed above, roof lanterns are also excellent in terms of energy efficiency. This means that your orangery or flat roof extension will be a warm and cosy space to enjoy, all year round. It also means that your energy bills will remain at their current level, or may even decrease!
Roof lanterns options
When choosing the roof lanterns for your extension or orangery, there are various options to choose from. These include:
Roof lanterns colour – choose from a range of colours including grey, black or white. As with material, it is possible to have a different colour on the internal and external face of your roof lanterns.
Roof lanterns glazing – choose from different colours and different specifications of high-performance glass for your roof lantern. This will ensure that it not only looks beautiful but also that it performs well in terms of energy efficiency and self-cleaning.
The roof lantern that performs best in every aspect is the Ultrasky Roof Lantern from Ultraframe.
The Ultrasky Roof Lantern is the:
Fastest roof lantern to install. No drilling or cutting is required as each Ultrasky Roof Lantern comes cut to size and ready to fit.
Most minimalist roof lantern there is. This is because it has 25% fewer bars than other roof lanterns.
Most energy-efficient roof lantern. This will ensure your home is a warm comfortable temperature all year round. This is because the Ultrasky Roof Lantern is thermally broken, inside and out. This means there are pockets of air throughout the design to form a barrier between your home and the elements.
Most customisable. The Ultrasky Roof Lantern can be customised more than any other roof lantern on the market with a choice of materials, colours and sizes.
Strongest roof lantern. The Ultrasky Roof Lantern is extremely strong thanks to the strongest ridge on a UK roof lantern. In fact, it's the strongest roof lantern overall on the UK market.
Buy Skylights Online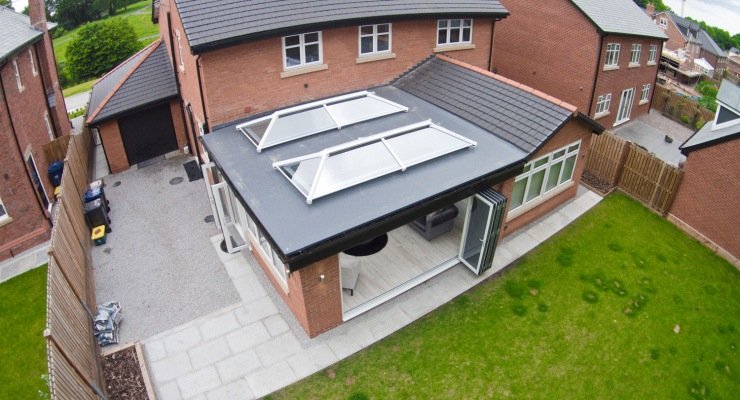 Order your Ultrasky Skylight online now or call 01200 452 246
to speak to the Ultrasky sales hotline.
Order lines open Monday - Friday 9.00am - 5.00pm
Ultrasky Case Studies