Bespoke Skylights for your Flat Roof Extension
Date: 14/04/20
If you're considering an extension, chances are that you've been considering a flat roof extension. Flat roofs can be used to create a traditional orangery, however thanks to contemporary architectural design they are increasingly being used for modern inspired extensions today.
When combined with modern flat skylights a flat roof extension can create 'Grand Designs' look, plus ensure plenty of natural light to keep the space bright and airy. When designing your extension, you may invest in large door sets to bring the outside in and focus on modern claddings to contrast to your house, but the importance of a bespoke skylight cannot be overlooked.
Did you know that five times as much natural light comes through the roof than the windows in any living space? That's why modern flat skylights are so important to the success of your design.
When choosing your bespoke skylights there are a few things to consider. The size of your skylight will determine how much light enters the room, however large skylights can be expensive and need lifting equipment to install. It may be cheaper to choose 2 bespoke skylights rather than one big one. They can sit a minimum apart from each other so you won't lose too much light if you choose two smaller modern flat skylights instead of a large one.
The thermal performance of any modern flat skylight is important to consider, especially if your kitchen is located in your new flat roof extension. This is because temperatures can fluctuate rapidly, so you need to ensure there is no cold bridging in the design of your bespoke skylight. Ultrasky flat skylights use 'warmframe' technology to ensure this does not happen as the insulated frame works with the other components to prevent condensation.
You should also consider the location of your modern flat skylights ensuring that within the roof around the bespoke skylights there is plenty of room for lights and speakers. Do not for example place a large modern flat skylight over an area that you will need to light during the evenings for example a kitchen cooking area or dining table.
Consider the glass to be used in your bespoke flat skylight too. Modern flat skylights are never actually flat as they need to have a small pitch to ensure the water drains off. This pitch is never high enough for 'self-cleaning' glass to be effective, so don't waste your money on this feature. Noise reducing glass and UV protection are well worth the investment to ensure your room remains peaceful and that any new furniture is protected from fading.
However you plan to use your new room, a Ultrasky modern flat skylight can be a stylish addition. With edge to edge glass and a frameless look from both the outside and the interior it is simple and minimalist – the perfect complement to any Grand Design.
Buy Skylights Online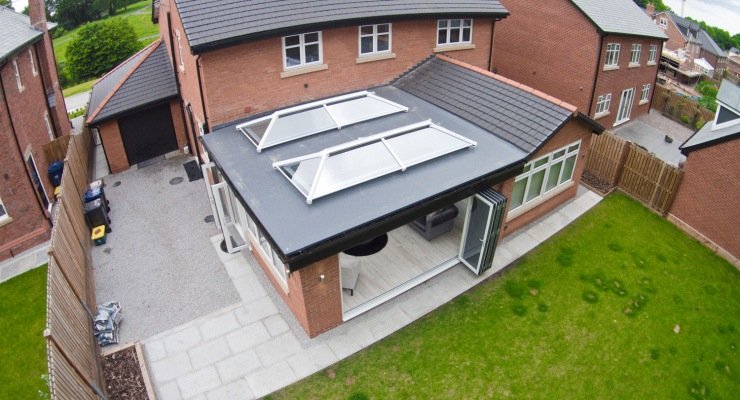 Order your Ultrasky Skylight online now or call 01200 452 246
to speak to the Ultrasky sales hotline.
Order lines open Monday - Friday 9.00am - 5.00pm
Ultrasky Case Studies