Building Regulations
Planning Permission
You do not normally need to apply for planning permission to re-roof your house or to insert roof lights or skylights as the permitted development rules allow for roof alterations subject to the following limits and conditions
Any alteration to project no more than 150 millimetres from the existing roof plane.
No alteration to be higher than the highest part of the roof.
Side facing windows to be obscure-glazed; any opening to be 1.7m above the floor.
Protected Species
Work on a loft or a roof may affect bats. You need to consider protected species when planning work on this type. A survey may be needed, and if bats are using the building, a licence may be needed.
Building Regulations
Work to an existing roof
If you want to carry out repairs on or re-cover less than 25 per cent of the area of a pitch or flat roof, you will not normally need to submit a building regulations application.
You will need approval, however, if:
You carry out structural alterations
The performance of the new covering will be significantly different to that of the existing covering in the event of a fire
You are replacing/ repairing more than 25 per cent of the roof area, in which case, the roof thermal insulation would normally have to be improved.
The removal or alteration to any roof elements could affect how the roof works and cause movement to occur. Movement could cause cracks to occur in the walls and, possibly, the eventual collapse of the roof. When performing work on any roof, care should be taken to ensure the roof will continue to perform effectively and without any movement.
Ties
These are timbers which stop the roof from spreading and form an A-frame shape. They can either be the ceiling joists (as described below) or can be fixed half-way up usually above the purlin and are fixed horizontally from front to back. (Common in terraced houses).
Ceiling Joists – These can act as ties, but mainly support the ceiling below. Their sizes are usually relatively small and will not be able to take the load of any typical room used in a house.
Existing Flat Roofs
Flat roofs are more simple and generally consist of joists that span the gap between two walls. These are covered by panels which, in turn, are covered in felting or other such coatings as required.
Rooflights
A rooflight is a window that is installed within a pitched roof or flat roof normally to give more light to rooms or spaces within the home. Approval under the Building Regulations will generally be needed for the installation of a new rooflight for the following reasons:
To install a rooflight, the roof structure will generally need to be altered to create the opening.
The roof will have to be able to carry the load (weight) of the new rooflight. If the roof can not do this then it will need to be strengthened.
Any rooflight that is installed will need to prove that it has sufficient insulation against heat loss i.e. is energy efficient.
If the rooflight is in close proximity to a boundary, the fire performance of the rooflight will need to be considered.
Structure
To install a rooflight in a roof generally entails cutting part of one or more of the roof's rafters or joists away. The cut ends of the rafter/joist will need to have new support introduced - usually achieved by fixing two pieces of timber together which span across the new opening on either side. These double timbers are called 'trimmers'.
The adjacent rafters or joists to which these trimmers are fixed may also need to be strengthened as they will be supporting the load transferred from the cut rafters or joists. This strengthening can be achieved by fixing a new rafter or joist to them which must also run the full length.
Weather Proofing
Once a rooflight is installed the edges (where the rooflight meets the roof) will require weather proofing as well as the glass of the rooflight itself. This is commonly carried out by using lead flashing or with proprietary kits supplied with the rooflight. Manufacturers of rooflights may be able to advise on how this can be carried out.
Ventilation
A room that the rooflight is to serve will need to be ventilated. Ventilation can be achieved by using the rooflight for both rapid and background venting.
Ventilation of the existing roof void(s) will have to be considered as air must still be allowed to flow from one to another.
Energy Conservation
Dwellings are required to be energy efficient. A method of achieving greater energy efficiency is to take steps to reduce the amount of heat that is lost through the glazing in both windows and doors.
If you are to install windows and doors you should be aware that they need to comply with the requirements of the Building Regulations in relation to the amount of heat that can pass through the door or window, including the frame, which is measured as a U-Value. This U-value should not be exceeded.
For information on the maximum U-Value allowed please refer to Approved Document L-1B, Table 1.
Insulation and thermal elements
Making significant changes to thermal elements (walls, roofs or floors) would normally require Building Regulations approval and require the thermal insulation of the element to be upgraded to a reasonable standard. Walls are defined by Regulation 2(3) of the Building Regulations 2010 as being thermal elements.
The extent to which the work on the element is controlled and the amount of upgrading needed depends on the particular circumstances of the thermal element. Generally, when it is renovated then it should be upgraded, where it is cost effective to do so, to the standard set out in the Approved Document. See section 5 and Appendix A of Approved Document L1B.[a1]
The definition in Regulation 2(3) is extracted here for convenience from the Building Regulations 2010
(3) In these Regulations "thermal element" means a wall, floor or roof (but does not include windows, doors, roof windows or roof-lights) which separates a thermally conditioned part of the building ("the conditioned space") from:
(a) the external environment (including the ground); or
(b) in the case of floors and walls, another part of the building which is:
(i) unconditioned; (ii) an extension falling within class7 of Schedule 2; or
(iii) where this paragraph applies, conditioned to a different temperature, and includes all parts of the element between the surface bounding the conditioned space and the external environment or other part of the building as the case may be.
(4) Paragraph (3)(b)(iii) only applies to a building which is not a dwelling, where the other part of the building is used for a purpose which is not similar or identical to the purpose for which the conditioned space is used.
Further guidance on this is available in Approved Document L1B covering:
Guidance on thermal elements (Section 5 pages 17-18)
Explanation of when renovation works trigger requirement for upgrading insulation and what additional work may be required.(see Appendix A and Table A1 pages 21-23)
You should fully consult the Regulations and the Approved Document and, if you are in any doubt, seek advice before commencing work. The definition of a thermal element does not include windows, doors, roof windows or rooflights.
Pitch Roofs
At this stage we do not have a skylight product that is suitable for a pitched roof.
Ventilation
Not all roofs need to be ventilated. Ventilation is not required to a warm roof system, which is where the insulation is placed above the joists or rafters, otherwise ventilation is required and this is known as a 'cold roof system'. When ventilating a roof the air should be able to enter at one end and travel through to the other end where it can exit.
Weight (Loading)
The loads (weights) to be supported are from various sources:
Materials: This would include tiles, battens, felt, insulation etc
Weather: e.g. wind, snow and rain
Maintenance: A person needing to access the roof in order to repair items
Wind Load
The roof should be tied down to the structure to stop it from lifting in times of strong winds. This is normally achieved by providing straps that are approximately 1.2m long with a cranked end which is fixed to the wall plate (to which the roof timbers are fixed) and then the inner skin of the wall at every 2.0m centres.
Disclaimer
This is an introductory guide and is not a definitive source of legal information. Read the full disclaimer here.
This guidance relates to the planning regime for England. Policy in Wales may differ. If in doubt contact your Local Planning Authority.
Buy Skylights Online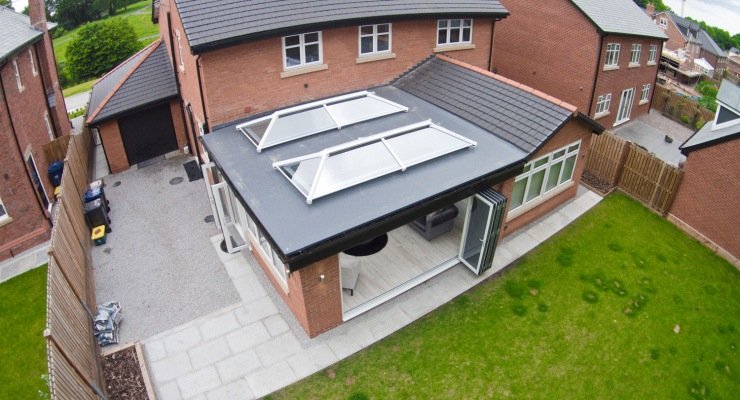 Order your Ultrasky Skylight online now or call 01200 452 246
to speak to the Ultrasky sales hotline.
Order lines open Monday - Friday 9.00am - 5.00pm
Ultrasky Case Studies