The Variations of Roof Lanterns
Date: 16/03/20
Roof lanterns are a great way to bring huge amounts of natural light into your home. They are also extremely versatile because they can be used on various types of home improvement project.
Some of the most popular uses for lanterns include:
Adding to an orangery roof
Adding to a new flat roof extension
Adding to an existing flat roof extension to bring light in and transform the space
Adding to a single-storey space such as a corridor or landing
If you have decided to add roof lanterns to your orangery or home extension project, you will know that they are many options to choose from – and all of these different options mean that they are many different roof lantern prices.
What affects roof lantern prices?
There are many factors which affect roof lantern prices. This is because roof lanterns have a number of options to choose from. It's important to spend time researching the options for your roof lanterns. This will ensure that you order the roof lantern that is perfect for your home improvement project.
Here are the top 5 things that affect roof lantern prices:
Size. The size of your lantern will obviously affect roof lantern prices. Ultrasky Roof Lanterns are available in a wide range of sizes, from 1000mm x 1500mm all the way up to 2000mm x 4000mm. The larger the size, the higher the roof lantern price. On Ultrasky.co.uk you can choose from a range of preset sizes or you can enter your own bespoke dimensions.
Material. Roof lanterns are available in UPVC or aluminium. Your choice of material will affect your roof lantern price. An aluminium roof lantern will have a higher price than a UPVC roof lantern. The choice of whether to go for an aluminium or a UPVC roof lantern is all down to aesthetics. Some people like their roof lanterns to match the rest of their windows on their home or extension, some like them to be in a different material as a contrast. The choice is yours! With Ultrasky Lanterns, there is a third option which is to have aluminium on the external face and UPVC on the internal face. The price for this option lies somewhere between UPVC and aluminium both sides.
Colour. The colour or colours you choose for your roof lanterns is another factor that will impact on your roof lantern prices. With the Ultrasky Lantern from Ultraframe, you can choose from gey, black or white. It is possible to have the same colour on the inside and outside of the frame, or you can have different colours on each side. The colour combination that you choose will affect your roof lantern prices. In general, the price of your roof lantern will increase if you have different colours on both sides. You will probably decide that this is a price increase worth paying for if you want the different sides of your roof lantern to match different colour schemes.
Roof lantern price and payment
Designing and paying for your roof lanterns on the Ultrasky website is very easy. The online roof lantern builder takes you through a series of steps to build your perfect roof lantern. At each step of the way, you can see the live roof lantern price to see how your choices affect the roof lantern price.
It is very easy to change your choices and see how that makes the roof lantern price go up or down. For example, you might have designed your roof lantern in UPVC both sides. With one simple click of a button, the live roof lantern price will change if you choose the change the material aluminium.
Use the website to play around with different roof lantern options until you get a combination that you are happy with both from a specification and roof lantern price point of view.
Once you have chosen your perfect roof lantern specification, the next step is to pay. The roof lantern price is shown in two ways:
Roof lantern price excluding VAT and + delivery
Roof lantern price including VAT and delivery
This means there is no confusion over your roof lantern price – it is very clear so that you understand exactly how much it will cost and what is included. To make the payment for your roof lanterns, simply enter your card details as you would on any other e-commerce website. Once the Ultrasky team receive your order, you will receive a call to arrange a suitable delivery date – it really is that simple!
Your roof lantern or lanterns will then be delivered to your home or site ready for installation. Buying roof lanterns online from the Ultrasky.co.uk website is a great way to buy roof lanterns because:
It allows you to understand the different options for roof lanterns
It allows you to try different options on your roof lantern at the click of a button and see how this affects the roof lantern price
The roof lantern price is very transparent – you know exactly what you are paying and what is included
You have the support of the expert Ultrasky team available to help if you need them to. This help and advice are all included in the Ultrasky roof lantern price.
Buy Skylights Online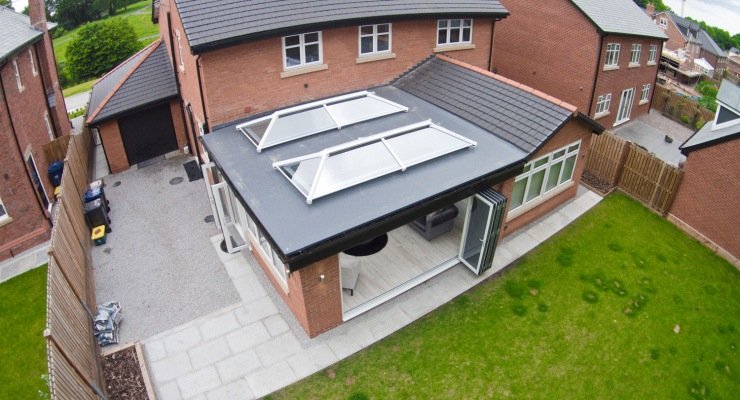 Order your Ultrasky Skylight online now or call 01200 452 246
to speak to the Ultrasky sales hotline.
Order lines open Monday - Friday 9.00am - 5.00pm
Ultrasky Case Studies