Roof lantern Installation Guide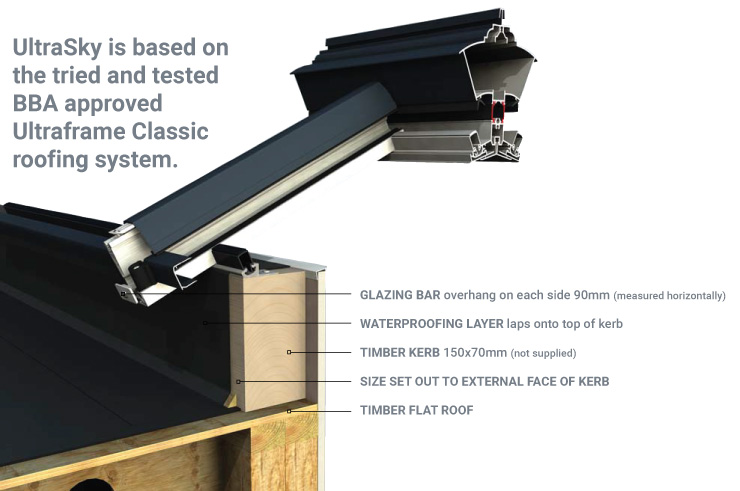 Set-out Dimensions
Rectangular double ended rooflights with a width from 1000-2000mm and a length from 1500-4000mm*
25 degree pitch to all four sides
The set-out dimensions of the Ultrasky roof lantern are measured to the external wall of the timber kerb, 150 mm high x 70 mm wide (not supplied), and NOT the size of the cut-out in the flat roof
In most cases therefore the dimensions of the lantern are calculated as follows:
Length = Length of hole + (2 x Kerb Width)
Width = Width of hole + (2 x Kerb Width)
Example:
Hole 1000mm x 1500mm
Kerb Width 70mm
Overall Dimensions of Lantern: 1140mm x 1640mm
Our roof lanterns are manufactured on demand and therefore we can offer bespoke sizes, should a specific size be required.
*Width and length are defined as being to the external faces of the timber kerb.
Installation
A timber kerb of 150mm high by 70mm wide (not supplied) must be fitted around the opening in the flat roof and allowance must be made for an overhang of minimum 90mm as shown in the diagram.
Installation of the Ultrasky roof lantern is a relatively simple process for an experienced installer, and there is a detailed installation guide available here for you to download. We recommend that you take advice from a professional builder or installer unless you are 100% confident undertaking this type of installation project.
Please see our Full Installation Guide
Buy Skylights Online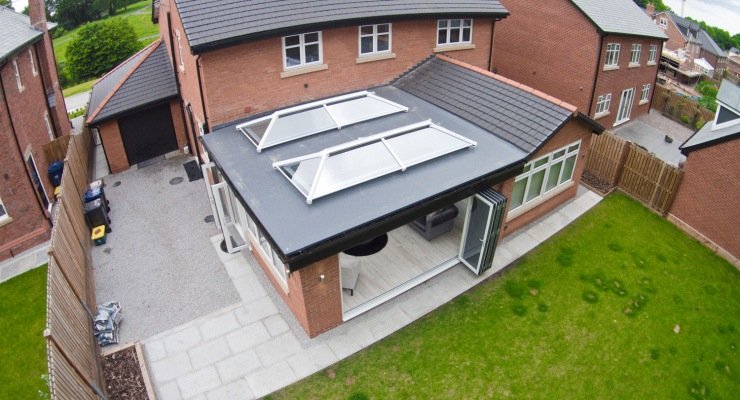 Order your Ultrasky Skylight online now or call 01200 452 246
to speak to the Ultrasky sales hotline.
Order lines open Monday - Friday 9.00am - 5.00pm
Ultrasky Case Studies