Trade Customers
Ultrasky products and services our designed to make your job easier. We know that your time is valuable and that from ordering to installation you need an efficient service that fits seamlessly with your schedule and your customer's requirements. That's why Ultrasky provides a bespoke product, a flexible delivery service and a straightforward fitting process, supported by a comprehensive fitting guide and extra technical advice from our tech support team should you need it.
Bespoke product
Ultrasky skylights can be varied to match the needs of your project and the preferences of your customer. Our skylights are available in either aluminium or PVC with the option of 4 different glazing colours. The size of the skylight can be selected from a range of preset sizes or using the bespoke sizing tool, order to your own unique specifications.
Smooth delivery
We can deliver within 10 working days of your order being placed, or sooner by telephone request and we deliver all sizes direct to your site or your customer's home. You will have the option to select your delivery dates during the ordering process. The glass and frames for Ultrasky products are delivered separately. This helps to ensure that both elements arrive in perfect condition. It also makes installation easier as it removes the need for a heavy single unit to be winched into position. Instead, the lighter frame can be installed manually before the glass is lifted in to place.
Straightforward fitting
Ultrasky skylights are easy to install and to help make the fitting process as straightforward as possible each delivery comes with an installation guide and Ultrasky provide a dedicated technical support service for installers. If you have any questions regarding the fitting process contact our tech support team.
Please use the enquiry form or call our helpline on 01200 452 246
Buy Skylights Online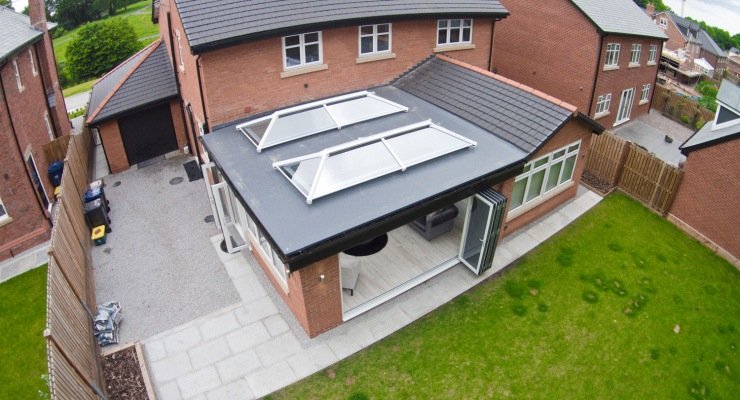 Order your Ultrasky Skylight online now or call 01200 452 246
to speak to the Ultrasky sales hotline.
Order lines open Monday - Friday 9.00am - 5.00pm
Ultrasky Case Studies