10 Benefits of Roof Lanterns for You and Your Home
Date: 05/02/18
You can see from our gallery the effect that an Ultrasky roof lantern can have on the look of a room. They look great, and are surprisingly affordable. What are the other benefits of an Ultrasky roof lantern?
1) They're great for your health – Flooding your room with lots of natural sunlight is a proven way to help beat depression, seasonal affective disorder (SAD) and general blues. The vitamin D that the sunlight contains can also boost the immune system and help to prevent heart disease.
2) Energy saving – Adding natural sunlight to your room is obviously saving you money on electric lighting. But the thermal efficiency of an Ultrasky roof lantern will also help to keep your room warm in the winter and cool in summer – saving you on expensive heating bills too.
3) Weight loss! – Studies suggest that an increase of vitamin D can actually suppress your appetite, leading to weight loss and a healthier lifestyle.
4) Add value to your home – The great look of an Ultrasky roof lantern will certainly add value to your home, making it more desirable to buyers.
5) Self-cleaning – We're aware that roof lanterns are not easy to access in order to keep clean. That's why every Ultrasky roof lantern is made with the latest self-cleaning glass technology.
6) Peace of mind – every Ultrasky roof lantern comes with a 10 year guarantee. These are units that are built to last.
7) Improve the look of your house externally – it's obvious that a roof lantern will transform the look of a room's interior, but also consider the look of your house externally. A flat roof can look uninspiring architecturally, and the addition of an elegant roof lantern can turn this into a beautiful feature.
8) Simple ordering, quick deliveries – Ultrasky's ordering process is simple and orders will arrive within 6 working days even for remote rural locations.
9) Tough stuff! – Ultrasky roof lanterns are high performance and offer exceptional strength and rigidity. Even the worst of the British weather will be no problem.
10) Saving the planet – Through their advanced thermal insulation, an Ultrasky roof lantern will harness solar energy to light and heat your home.

Buy Skylights Online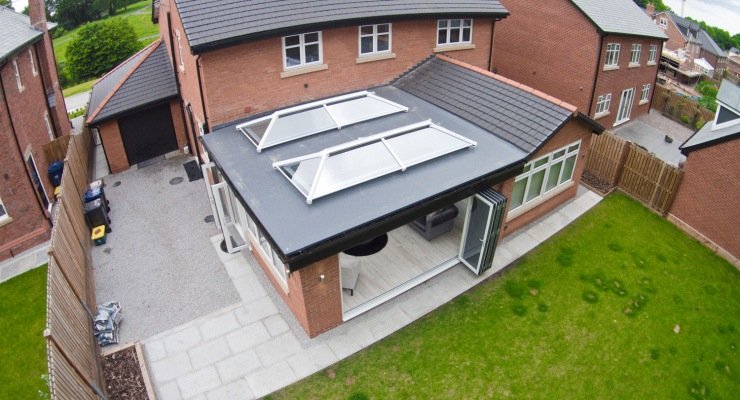 Order your Ultrasky Skylight online now or call 01200 452 246
to speak to the Ultrasky sales hotline.
Order lines open Monday - Friday 9.00am - 5.00pm
Ultrasky Case Studies