Afraid of the Dark?
Date: 08/08/17
One of the biggest worries people have with adding an extension to the back of their house, is that it will block the light that used to come in through the rear windows, leaving them with a dark core at the heart of their home.
The concern is that while you will gain space at the back, in your new extension, you will lose space in what were the back rooms, because they will become just too dark and uninviting. Some people also think that their kitchen will now need artificial light all day long, pushing up their energy bills.
This is where Ultrasky can really make a difference.
Let there be light
By including Ultrasky roof windows as part of your design, you can let the light flood in, not only filling the extension with a bright, fresh feeling, but also lighting the kitchen and back rooms of their home too. Ultrasky rooflights can be incorporated into any design of extension, and are especially effective in designs with solid side walls, or locations that do not get much natural sunlight at the rear of the property.
Integrated into the design
Of course, you don't have to stop at the extension roof when it comes to Ultrasky lantern roof lights. If the extension is integrated into the existing structure with a natural flow, creating an open plan kitchen / dining / living area, you can add roof windows to any single story sections of the home too, creating a harmony of design and an abundance of natural light throughout. And remember, we can have your roof lights made to measure and delivered to site in as little as six days.
A stylish focal point
Ultrasky lanterns are much more than just roof windows to let light in; they are a stylish focal point for the room. With their unique slim-line design, perfectly pitched angles, uncluttered sight lines and range of contemporary finishes, they can add a touch of class to any extension.
So don't be afraid of the dark. Choose Ultrasky and let the light flood in.
Buy Skylights Online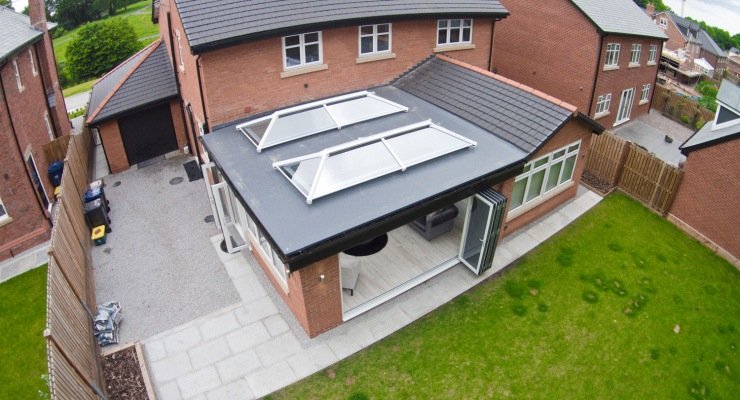 Order your Ultrasky Skylight online now or call 01200 452 246
to speak to the Ultrasky sales hotline.
Order lines open Monday - Friday 9.00am - 5.00pm
Ultrasky Case Studies