Are Roof Lanterns Really an Energy Saver?
Date: 12/02/18
Energy efficiency may not sound like the most thrilling idea, but it's very zeitgeist right now. Switch on any home improvement programme, and they're all about the energy efficiency of the build: how the walls are insulated with 3ft of yak dung and the under-floor heating is carbon-offset through the green roof!
It's understandably a concern for most people. We all do our best to recycle and generally try to make our environment a better place. With the planet's depleted resources and rising energy bills, it's a financial consideration too. But is it true that roof lanterns are really an energy saver? Good for the environment, and your pocket? Well, put simply, the answer is yes – let's look at why.
Light efficiency
The big difference between a traditional skylight and a roof lantern is the quality of light that passes through them. The old-style skylights would mainly pass direct sunlight through. These are the damaging rays that can bleach fabrics and floors and are not efficient at lighting a room. A roof lantern, by contrast, will mainly offer the room diffused sunlight. This is kinder to your furnishings, and better at lighting the room, hence reducing the need for electric lighting. It's solar power in its purest form.
Thermal efficiency

Ultrasky roof lanterns are made to an extremely high performing 'recipe' of thermal efficiency. Using the latest glass technology, they can guarantee that the roof lantern can deflect heat from the sun in summer and retain the warmth of the room in winter. Ultrasky are so confident of the quality of their product that they guarantee every unit for 10 years.
Carbon emissions

Ultrasky roof lanterns are produced in the UK using locally sourced materials where possible to cut down on carbon emissions.
If you'd like more information about saving the planet by adding natural sunlight to your room, please contact us for a chat.
Buy Skylights Online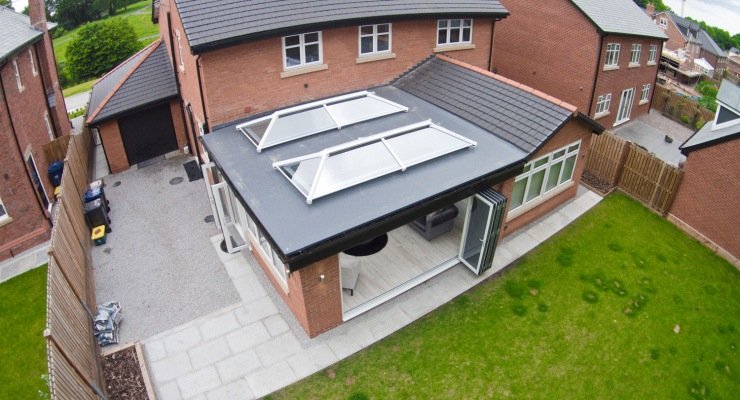 Order your Ultrasky Skylight online now or call 01200 452 246
to speak to the Ultrasky sales hotline.
Order lines open Monday - Friday 9.00am - 5.00pm
Ultrasky Case Studies