Benefits of Roof Lanterns & Their Different Types
Date: 08/07/19
Benefits of Roof Lanterns & Their Different Types

Lantern roofs have become increasingly popular over recent years as the trend for flat roof extensions and orangeries has really taken off. Whether you're looking to add a new living space that is traditional or contemporary in style to your home, a lantern roof is a fantastically versatile choice which will suit either style.
There are many other ways of bringing light into an extension or orangery – these include velux windows, flat skylights, solid roofs with velux windows, solid roofs with glazed panels, tiled roofs with velux windows and tiled roofs with glazed panels.
However, there are many benefits to choosing to introduce light into your room with lantern roofs and we will explore some of the main ones here.
Benefits of lantern roofs for extensions and/or orangeries

Here are some of the key benefits of lantern roofs:
1. Adding a lantern roof or lantern roofs to a flat roof extension will instantly flood the space below with lots of natural light, making it feel lighter, brighter, more spacious, and a more inviting space to spend time in.
2. Adding several lantern roofs to an orangery is a nice alternative to having one large glazed roof. Several smaller lantern roofs add an element of interest/wow factor and from the inside, this also means there will be more areas of solid plastered ceiling, which will bring a more solid, room-like feel to your orangery.
3. For a flat roof extension, adding lantern roofs as opposed to flat skylights brings extra height to the room, which can in turn, make it feel bigger and more airy – key things that homeowners typically want to achieve when adding an extension to their home.
4. Lantern roofs are very low maintenance – once they have been installed you can pretty much forget that they're there. There are no gutters to keep clear as with a conservatory roof and as Ultrasky Lanterns from Ultraframe are glazed with high performance self-cleaning glass, you don't even need to worry about getting onto the roof of your extension to clean them. The glazing uses rainwater to activate the self-cleaning properties of the glass, so any dirt deposits are broken down and washed away, leaving the glazing sparkly clean so that you can enjoy the views of the sky above.
5. Lantern roofs are very fast to fit, so your extension or orangery can be watertight within hours of the roof deck being ready to be glazed.
6. There are a number of options available with Ultrasky lantern roofs, including a choice of PVCU or aluminium cappings and glazing bars, different colour options and a choice of high-performance glazing options.
Lantern roof glazing options

There are 4 colour options available for the Ultraframe Ultrasky Lantern roof – clear, blue, aqua and brown.
The properties of the glass used in the Ultraframe Ultrasky lanterns include:
• Keeps the heat out in summer
• Retains warmth in winter
• Reduces fabric fading
• True self cleaning
• Tinted
• Toughened
As you can see, each of these criteria is key to you gaining long term enjoyment from your new extension or orangery and so choosing the best glazing option for your roof lanterns is vital.
The units in Ultrasky roof lanterns are comprised of toughened safety glass for your complete peace of mind in a 4mm glass – 16mm argon filled cavity – 4mm glass formation. When specifying roof lanterns for your home extension project, don't ever compromise on the quality of the glazing as this is key to ensuring a room below that is comfortable in temperature and bright.
Hopefully this blog has answered many of the questions you may have had about the main benefits of roof lanterns and how they can really enhance your home extension or orangery project. We have also explained some of the key features and benefits of the glazing options available in the Ultrasky roof lantern and how choosing the correct glass can have a huge positive impact on your enjoyment of your orangery or extension. However, if you have any further queries about the benefits of roof lanterns or the best glazing options for roof lanterns, either take a look around www.ultrasky.co.uk or use the live chat facility on the site to speak to a member of the team.
Buy Skylights Online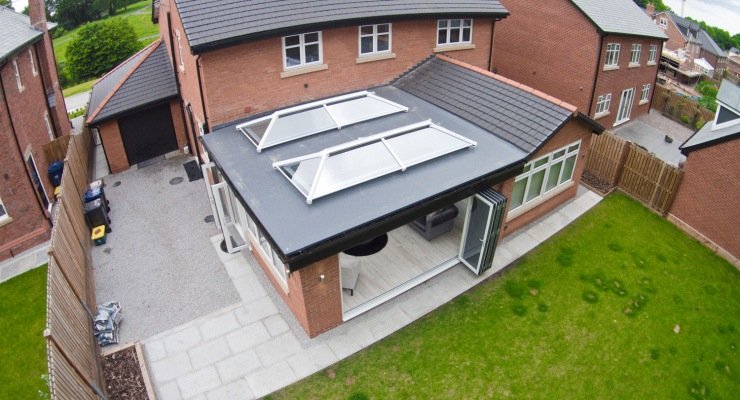 Order your Ultrasky Skylight online now or call 01200 452 246
to speak to the Ultrasky sales hotline.
Order lines open Monday - Friday 9.00am - 5.00pm
Ultrasky Case Studies