Bespoke Glass Rooflights
Date: 19/08/19
Glass Rooflights
Glass rooflights can transform a very ordinary room into the extraordinary – flooding the space below with huge amounts of natural light to make it feel bright, airy, spacious and welcoming.

Glass rooflights are a fantastic option for adding light to a room below a flat roof or orangery because they are fast to fit, highly thermally efficient and a fact which many people are not aware of is that in addition to the preset sizes set by Ultraframe, Ultrasky glass rooflights are available in bespoke sizes.

This means that you can order glass rooflights that are exactly the shape and size that you need them to be so that they are perfect for your home and designed to your exact requirements.
Bespoke Glass Rooflights
Ultraframe's Ultrasky bespoke glass rooflights can be ordered in bespoke sizes in a few clicks of a button from the Ultrasky.co.uk website.

Dimensions for flat glass rooflights are split into two categories – the slope and the span. The slope of a glass rooflight is the shortest side, while the span of a glass rooflight is the longest size.

Using the simple bespoke tool on the Ultrasky website, simply use the sliders to specify the exact bespoke glass rooflight that you need. These sizes of the bespoke glass rooflights got from 600m on the slope, up to 1400mm, and from 600mm on the span, up to 2500mm. So for example, you could create a bespoke glass skylight at 737mm by 2006mm, etc.

The ability to design and create bespoke glass rooflights is a massive benefit to homeowners who have an existing opening in their flat roof or orangery which they wish to upgrade with a more up to date, technically advanced bespoke rooflight.

The ability to design and create a bespoke glass rooflight is also a fantastic benefit if you are designing a new flat roof extension or orangery, and have a requirement for a specific bespoke glass rooflight size. For example, it may be that you are building a flat roof extension that will house a kitchen and to ensure a plentiful supply of natural light over the area in which you will prepare food, you require a glass rooflight overhead. While the preset sizes of glass rooflights may often be suitable for your home improvement project, sometimes only an exact size will do and this is where bespoke glass rooflights are your best option.

Bespoke Glass Rooflights – What do they cost?

We're sure you'll agree that the ability to design and order your own bespoke glass rooflights at the click of a button is a fantastic option to have, but you may be worrying that having a bespoke glass rooflight made bespoke to your exact measurements is going to be prohibitively expensive?

Well, think again!

The cost of bespoke glass rooflights from Ultraframe is actually only marginally more than choosing the off the shelf preset sizes of glass rooflight.

Using the bespoke tool on the Ultrasky website, you can quickly and easily see how changing from preset sizes to bespoke glass rooflight sizes is only marginally more expensive, meaning that a bespoke product made to the exact specification that your home improvement project demands will not blow your budget.

Bespoke glass rooflights – how to order

Ordering bespoke glass rooflights couldn't be easier when using the Ultrasky.co.uk website. Simply click on the bespoke tool, use the slider to enter your sizes and the price of the bespoke glass rooflight will be instantly calculated on screen for you.
If you're happy with the price shown and wish to order, simply add the bespoke glass rooflights to your basket, checkout and pay. It really is as simple as that to design and order a bespoke glass rooflight on www.ultrasky.co.uk

Bespoke glass rooflights – other options

Did you know that in addition to bespoke sizes, there are also many other ways to personalise Ultrasky glass rooflights?
These include:
Pitch – instead of a flat bespoke glass rooflight, why not consider a lantern bespoke glass rooflight? A lantern is distinguished by its pitched roof, almost like a small conservatory roof. You can design and price lanterns on Ultrasky.co.uk as well as flat glass rooflights.
Colour – you can also choose the colour of your glass rooflight or roof lantern when creating a design on the Ultrasky website. With the flat glass rooflight, there is a choice of grey or black for the external colour (there is no internal colour as from inside, the flat glass rooflight is frameless). With the Ultrasky lantern, your lantern bespoke glass rooflight can be personalised in terms of colour on both the inside and the outside, choosing from white, black, or grey, dependent on material.
PVC or aluminium – if you've decided to buy a lantern glass rooflight, another way to make it a bespoke glass rooflight to your exact requirements, is to choose the material. Ultrasky lanterns are available in a choice of PVC or aluminium in the following combinations: External PVC/Internal PVC, External aluminium/Internal PVC, or External aluminium/Internal aluminium.
Glazing options are another way to allow you to create a bespoke glass rooflight on the Ultrasky website. If you are buying a flat glass rooflight, you have a choice of clear of blue glazing, while if you are buying a lantern glass rooflight, you can choose from clear, blue, aqua, or brown glazing.
With the Ultrasky Flat Skylight, another personalisation option to make your own bespoke glass rooflight is the kerb option. The waterproof kerb can easily be selected during the design/ordering process and is an upstand on which your flat bespoke glass rooflight will sit.
So, as you can see, there are many options to personalise a glass rooflight – ensuring that you can create a fully bespoke glass rooflight to the exact requirements of your home improvement project all online using the Ultrasky website. Not only is the number of options to create your bespoke glass rooflight numerous, but it is also quick and easy to bespoke your glass rooflight with the www.ultrasky.co.uk website.

Buy Skylights Online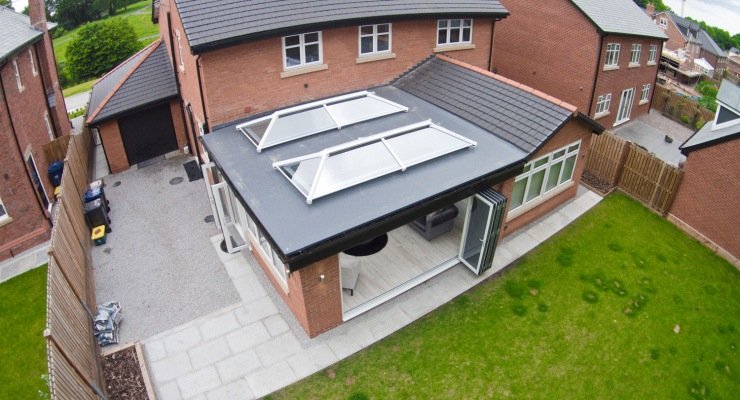 Order your Ultrasky Skylight online now or call 01200 452 246
to speak to the Ultrasky sales hotline.
Order lines open Monday - Friday 9.00am - 5.00pm
Ultrasky Case Studies