Breathe new life in to your home in 2018
Date: 02/01/18
A new year is a new start - a time for resolutions and a time to refresh aspects of our life and home. How great does it feel when you take down all the clutter of Christmas and get your home back? When the tree is taken outside, and the decorations are back in the loft, have you noticed how big and bright and uncluttered your room has become? This feeling of light and space is so important in a home, particularly through the dark winter months. During winter, we need to make the most of any available light, and we're spending more time at home. So why not make it your 2018 resolution to keep this wonderful feeling of light and space in your home all through the year.
An Ultrasky roof lantern is a great way to add a feeling of light and space to a room. If you have an extension on your house you've already added valuable extra space to your home. But you may have the unwanted side effect of limiting the amount of light flooding into your downstairs space. By moving walls further out, you've also moved windows further away. This is where a roof lantern is an ideal way to bring light and design into your home. An Ultrasky roof lantern will flood your home with light and dramatically improve the look of your space. The roof lanterns are UV protected, double glazed and water-tight, so as well as adding extra light to your room, it can help with damp problems, give the impression of added ceiling height and can even offer relief for people suffering with Seasonal Affective Disorder (SAD).
If you're feeling the pinch after an expensive Christmas, then don't worry - although Ultrasky are market leaders in terms of quality, our designs are very affordable - all customers pay trade prices! Delivery is quick and roof lanterns are guaranteed for 10 years, so why not start your 2018 in style adding light and value to your home.
Use the online tool to receive a quote, or speak with our friendly customer services team on 01200 452246.
Buy Skylights Online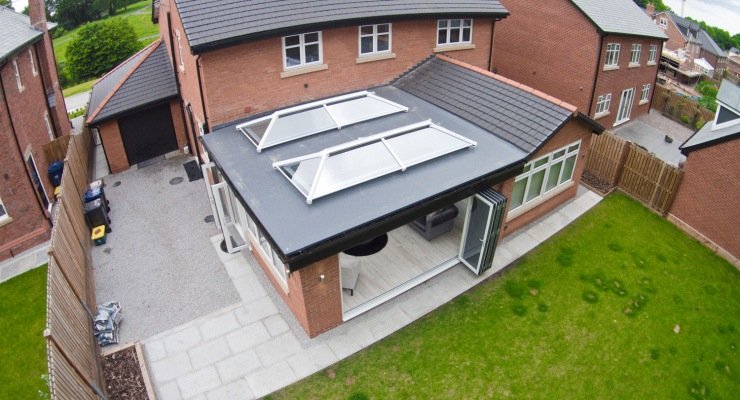 Order your Ultrasky Skylight online now or call 01200 452 246
to speak to the Ultrasky sales hotline.
Order lines open Monday - Friday 9.00am - 5.00pm
Ultrasky Case Studies