Buy a Roof Lantern for your Extension Project
Date: 06/05/19
When planning a home extension, there are many parts of the project which can be stressful and time consuming – sorting out the smallest details can sometimes take the longest time – and this can be especially frustrating when dealing with parts of the project that are not 'fun' such as plumbing and electrics. However, when it comes to choosing your roof lantern, then this is the fun part. With the Ultraframe Ultrasky Lantern, you can ensure that your roof is exactly as you want it to be to perfectly enhance your new living space – and ensure that the roof lantern cost that you're paying is worth every penny.
Start with the materials. Roof lantern prices can vary dependent on their material. Did you know that the Ultrasky roof lantern is available in a choice of either PVC or aluminium? These choices are available for you to specify both internally and externally, so you could choose to have aluminium cappings on the inside and PVC cappings on the outside to complement the windows in your home. When you can buy a roof lantern and know that you have chosen exactly how it will look, then it is going to look perfect within your new orangery or extension.
Next is the colour. While grey still reigns supreme as the number one choice for coloured roof lanterns (and windows) in the UK, it's important to understand that there are other choices available when it comes to roof lantern colour. With the Ultrasky roof lantern price, there is a choice of colour options available which will work with most interior and exterior colour schemes – grey, white or black – or for those with more adventurous roof lantern tastes, the Ultrasky Lantern can be customised into any RAL colour that you wish – in combination or the same internally and externally. As a new orangery or extension is a large and important investment, again, it offers a sense of value in your roof lantern prices if you have been able to have some real input into how the finished roof will look as part of your overall home improvement project.
We hope that this guide into roof lantern cost, roof lantern price and some of the decisions about buying roof lanterns has been a huge help in your decision making process. For further help and advice, speak to your local Ultra Installer who will be able to guide you on all things roof lantern related.
Buy Skylights Online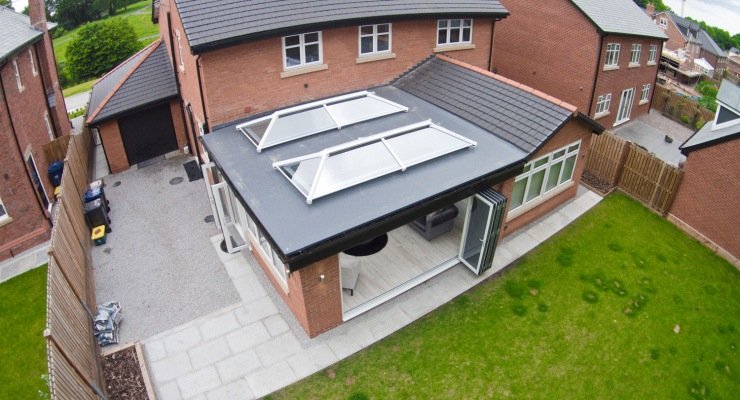 Order your Ultrasky Skylight online now or call 01200 452 246
to speak to the Ultrasky sales hotline.
Order lines open Monday - Friday 9.00am - 5.00pm
Ultrasky Case Studies