Buying Roof Lanterns Online Using Our Easy Bespoke Measuring Tool
Date: 10/06/19
Buy Roof Lanterns Online – is it possible?

If you're planning a new home extension or are wanting to update your existing extension with the addition of some roof lanterns, you may be wondering how to go about sourcing them and whether you can buy roof lanterns online? Well if you buy roof lanterns from Ultraframe, the answer is yes!

Of course, there is the option to go to your local Ultraframe installer, but using this website, you can also buy roof lanterns online in just a few simple steps.
Read through this handy guide and you'll be filled with confidence that you can buy your roof lanterns online.

Buy roof lanterns online – handy tips

Before you use our simple step by step configurator to buy your roof lanterns online, here are a few key bits of information that are useful to know:
1. We offer set sizes of roof lanterns as a 'shortcut' the make the process of buying roof lanterns online even easier but you are not limited to these sizes – we can also make roof lanterns bespoke to your own sizes and they can still be ordered online.
2. Our roof lanterns can be specified in 3 different material combinations: PVC internally and externally, aluminium internally and externally or PVC internally and aluminium externally.
3. Dependent on which material combination you choose for your roof lanterns, this will offer you different colour choices. Choose from black, white or grey.
4. We offer a choice of glazing options for your roof lantern too – you can choose from clear, blue, aqua or brown.
5. There are 2 different options to view the roof lantern you design – either as a flat image or in our 3D designer feature.

Buy roof lanterns online – step by step

OK so now you know some of the key information about Ultraframe roof lanterns, it's time to learn how to access and use the configurator so that you can buy roof lanterns online from the Ultrasky website.
1. Go to www.ultrasky.co.uk
2. The main image you will see at the top of the page on the left hand side is the Ultrasky Roof lantern. Below this it says order now – click this button.
3. This will take you to the configurator. On the right hand side you will see that you can choose between the preset sizes or the bespoke tool.
4. Below this are simple tick boxes for the colour and glazing options.
5. As you change the options, the price will appear and update at the bottom of the page.

Once you're happy that you've designed your perfect roof lantern, place the order, pay by credit or debit card and select your desired day of delivery and then we will create your bespoke product in our factory. Once your roof lantern is ready, we'll call you to arrange delivery and your roof lantern will be delivered to your home or site address.

Our online ordering system has been designed with the customer in mind to make the process of buying roof lanterns online as easy and foolproof as possible. If you do have any queries about the roof lanterns themselves or any part of the process to buy roof lanterns online, then our technical support and customer service teams are on hand to assist.

Buy roof lanterns online and install yourself

If you have bought your roof lantern online and are installing it yourself, there a comprehensive Ultrasky installation guide that can be downloaded directly from the site. Make sure you fully familiarise yourself with the various stages involved in the installation before you begin and if you have any questions, our helpful advisors are only a call away. They can be contacted on 01200 452246, Monday to Friday between 9am and 5pm.

We hope that if you are planning to buy roof lanterns online for your home extension project, that this information has been useful and has given you the confidence to make your purchase.
Buy Skylights Online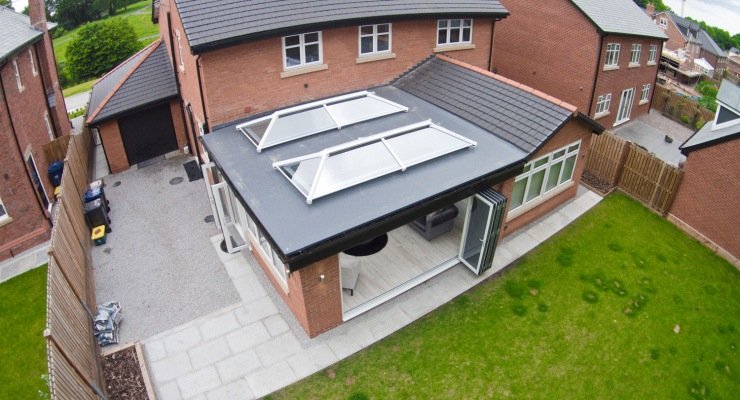 Order your Ultrasky Skylight online now or call 01200 452 246
to speak to the Ultrasky sales hotline.
Order lines open Monday - Friday 9.00am - 5.00pm
Ultrasky Case Studies