Choosing a Roof Lantern for an Extension or Orangery
Date: 07/05/19
If you're looking to add a roof lantern to your home on either an existing flat roof or a new extension, then you will have lots of question about roof lantern prices, where and how to buy a roof lantern and the style/size options of roof lantern that are available to you.
We've put together this handy guide to answer some of the most common questions about roof lantern cost and other roof lantern information to help you research and begin your roof lantern project with total confidence.
Ultraframe is the market leader in conservatory and extension roofing systems and so you can be confident when buying an Ultraframe roof lantern that you are choosing the product with the very best in roof lantern technology for your home improvement project.
When choosing a roof lantern for your extension or orangery, there are many factors to consider aside from roof lantern prices. To ensure that you are getting the best product and the best value for money for your roof lantern cost, here are some key factors to think about:
Roof Lantern Weather Testing. When you're investing in your home, you want to make sure that not only will the products you choose to look beautiful, but also that they will stand up to the worst of the weather to ensure you're getting the best value and performance from your roof lantern cost. The Ultrasky Lantern has been weather tested and proven to be watertight in winds up to 130mph. Not only this but it also features a triple layer storm shield at the radius end so you can have total confidence in its weather performance.

Roof lantern customisation options. We all like to make our homes unique to us and so products that can be customised are extremely popular and this is no different with roof lanterns – personalising your roof lantern makes the project your own and so means that you will be more likely to buy a roof lantern with customisation options. The Ultrasky lantern can be specified in either PVCu or aluminium, inside and out and is available in ANY colour to perfectly complement or contrast with your home and extension.

Roof lantern thermal performance. Make no mistake – roof lantern cost can be high and so you need to ensure you choose one that performs from a thermal point of view. The Ultrasky Lantern is thermally broken inside and out with fully insulated undercladding so you can be sure with Ultrasky that your roof lantern price is fully justified and you've equipped your extension with the very best in roof lantern technology.

Roof lantern strength. Another key consideration when choosing a roof lantern is the strength of the system. The Ultrasky Lantern is the strongest roof lantern on the market for your total peace of mind. Due to its immense strength, the Ultrasky roof lantern features less bars for a brighter internal appearance and is capable of larger spans.
Buy Skylights Online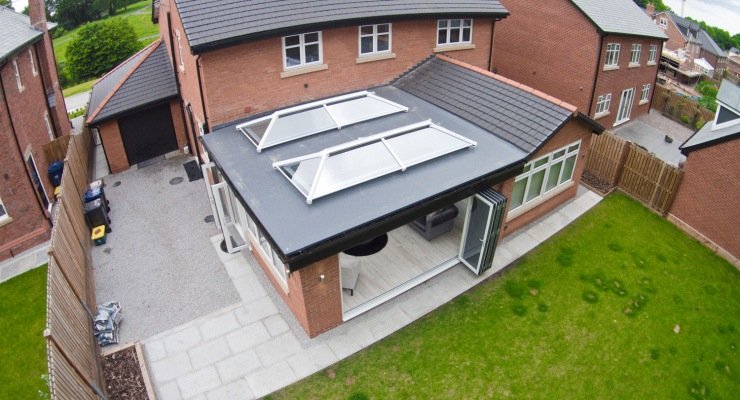 Order your Ultrasky Skylight online now or call 01200 452 246
to speak to the Ultrasky sales hotline.
Order lines open Monday - Friday 9.00am - 5.00pm
Ultrasky Case Studies