Consistently superior quality
Date: 20/11/17
Achieving exceptional results takes experience, precision and care. At Ultrasky we bring these qualities to every product that we manufacture, to ensure that your roof lantern looks beautiful and performs excellently from the first day it is installed and for many years afterwards.
Experience
Ultrasky roof lanterns are manufactured by Ultraframe, a company who are renowned as the market leaders in conservatory and glazed roofing design and manufacture. Ultraframe have over 30 years experience of innovation and have manufactured roofs for over 1.5 million glazed structures, all over the UK Europe and across the globe. We have used this experience to design a roof lantern that is both elegant and highly functional – with unrivalled thermal efficiency and superior spanning performance. Our excellent reputation and history mean that you can be assured that you are buying from a reliable and secure company.
Precision
UltraSky manufacture roof lanterns to order and can offer bespoke sizes and styles to match your preferred design. Making bespoke roof lanterns requires precise manufacturing techniques. Our expert manufacturing team work on one job at a time, ensuring that each lantern is created to fit your exact specifications. To ensure the best results, it's also important that you provide us with the correct specifications for your lantern, so please consult our measuring guide to make sure that you supply the right dimensions.
UltraSky roof lanterns feature clever design details, such as a self-adhesive thermal shield, to improve the performance of our lanterns and make installation as straightforward as possible. We listen to feedback from our customers and update our product to ensure that it remains amongst the best on the market.
Care
To maintain consistently superior quality we check and photograph every roof lantern before it is packed. We then pack the components in separate packs and deliver glazing and frames separately. This ensures that your lantern is delivered in perfect condition. We also strive to provide an excellent customer care service through our dedicated sales team. You can call them on 01200 452 246, 5 days a week, to discuss your order, check or change your delivery schedule, or simply find out more about our products.
The combination of precision manufacturing, experience and careful attention to detail that Ultrasky bring to each roof lantern, ensures that the service and quality that we offer is unmatched. But don't just take our word for it, why not experience it for yourself? Call 01200 452 246 today.
Buy Skylights Online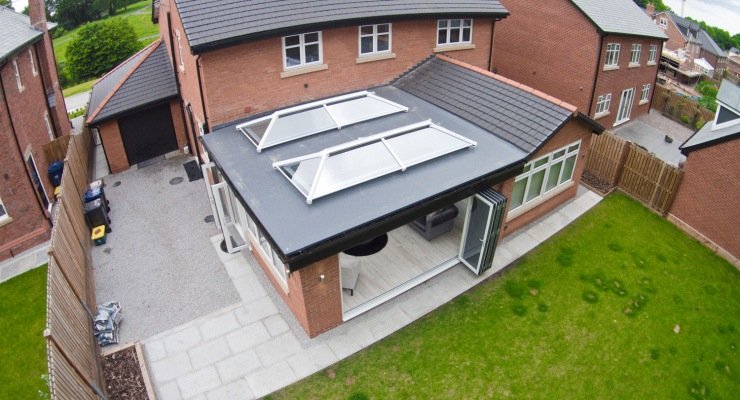 Order your Ultrasky Skylight online now or call 01200 452 246
to speak to the Ultrasky sales hotline.
Order lines open Monday - Friday 9.00am - 5.00pm
Ultrasky Case Studies