Design your dream kitchen
Date: 16/06/17
For many people, the kitchen is the heart of their home. It is a multifunctional room that needs to be both practical and comfortable, a place where you start the day, spend time with family or relax with friends. So it's important to get the layout and interior design just right. Adding an Ultrasky roof lantern to your kitchen could help to create the kitchen of your dreams and with lots of bespoke options to choose from you can select a stunning skylight that fits your designs perfectly.
If you're planning a renovation, here are some of the factors and features you might like to consider in your plans.
Space
Expanding your kitchen can change the way your use your home. Making space for a large kitchen table or creating an open plan living area could turn your kitchen in to a sociable space as well as a functional room. It is also a good way of adding value to your property.
Whether your dream kitchen is a family room where you can cook with the kids or an eat-in kitchen perfect for friendly dinners, a roof lantern can be a valuable, stylish addition to the space and can be easily incorporated in to single storey extensions or existing flat roofs. For example, a roof light could provide a focal point for an elegant dining area, flooding your table with natural light throughout the day. Ultrasky rooflights are designed to have fewer bars and a better spanning capacity than many competing brands, maximising the light that enters the room below.
Contemporary or classic?
The choice of whether to opt for a timeless classic design for your new kitchen or embrace a more contemporary look could depend on your personal style and the design of the rest of your home. But if you're struggling to make up your mind, remember that this doesn't have to be a black and white decision. Simple, classic designs can be given a modern twist with design features such as copper coloured handles or some open shelving. Ultrasky rooflights are available in classic white PVC or aluminium, which gives a more contemporary look and can be coated in a range of colours, including white, anthracite grey or satin black. Whatever aesthetic you decide on, your roof lantern is sure to stand the test of time: we manufacture our units to exacting standards and we are so confident in their lasting quality that we offer a 10 year guarantee as standard.
On trend
If you're looking for a kitchen that makes a statement, you'll know that some of the most 'on trend' features can be difficult to incorporate in to an average sized kitchen. Elements such as patterned or dark wood floors can make small spaces look even smaller. Achieving a more minimalist, airy aesthetic can also be a challenge in a tight space. A roof lantern could help to update your kitchen by making it lighter and raising the ceiling height, creating the illusion of space even where it is limited. And because we use only the highest quality materials, including superior grade Conservaglass glazing, you can be sure that an Ultrasky roof lantern will enhance your carefully styled interior with clean lines and a premium finish.
Technophile?
If you're keen to equip your kitchen with all the latest technologies, you'll be pleased to hear that Ultrasky's skylights feature advanced design features which help to make our products amongst the most thermally efficient on the market. A thermally broken ridge and insulated bars help to keep your kitchen warm in the winter and cool in the summer sun, while UV filters in the glazing protect your furnishings from sun bleaching.
Want more advice?
We know that whatever your priorities, whether it's gadgets or granite work surfaces, transforming your kitchen is an exciting and important project. If you need some inspiration you can see some stunning kitchen designs featuring roof lanterns in our photo gallery. Or if you would like more information about installing an Ultrasky roof lantern in your dream kitchen, give our customer service team a call today on 01200 452 246 Monday-Friday 9.00am-5.00pm.
Buy Skylights Online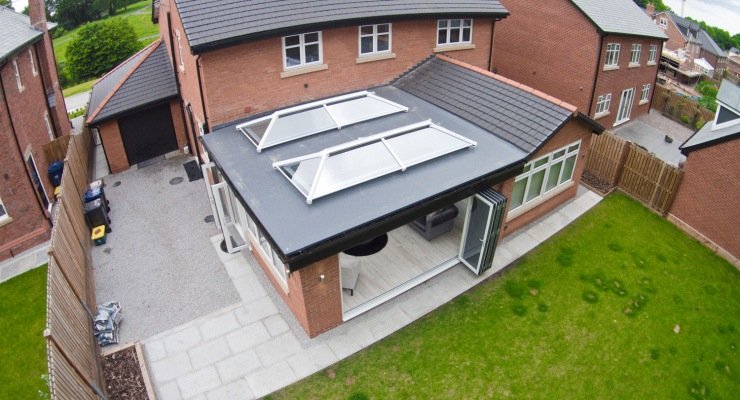 Order your Ultrasky Skylight online now or call 01200 452 246
to speak to the Ultrasky sales hotline.
Order lines open Monday - Friday 9.00am - 5.00pm
Ultrasky Case Studies