Finding a reliable roof light installer
Date: 28/04/17
Ultrasky follow a tried and tested installation system which makes fitting your roof lantern a fast, straightforward process. In the first instance you will need to understand the size of the project, is this a one off installation into an existing or new roof, or part of a larger project? For larger projects you could contact a specialist installer. Ultraframe has a number of Which? approved Ultra Installers that are fully trained in finding the right solution for you, you can find your local installerhere. For smaller projects we recommend that your roof light is fitted by an experienced builder to ensure that the work is finished to the highest possible standard – just like our skylights. We've put together this quick guide help you find the best person for the job.
Where do I start?
By far the best starting point is a personal recommendation. Ask friends and family to recommend someone who has done a good job for them in the past or talk to other tradespeople to see if they can recommend someone they have worked with before. You could also consult other industry professionals, such as your architect or a building inspector.
Look for someone who has experience fitting skylights or roof lanterns. If you are installing a skylight as part of a larger renovation project or extension then keep an eye out for similar work in your neighbourhood that you like the look of.
Remember, it's best to canvas a few different opinions to make sure that someone has a consistently good reputation and bear in mind that a firm's personnel and capabilities can change over time.
Using online directories
From trade associations to commercial sites such as Rated people, there are many online directories which claim to be a goldmine of reliable tradespeople. While these sites can provide a useful starting point, don't assume that everyone listed there is trustworthy. Check the association's membership conditions and look for recent, positive customer reviews for projects similar to your own. The government endorsed Trustmark standard also provides a database of UK tradespeople.
Comparing quotes
Once you have drawn up a shortlist of suitable tradespeople, call each of them to discuss the job and ask for a written quote. Speaking to someone rather than contacting them via email can help you to build up a picture of their working practice. This is also a good chance to ask about their previous experience of fitting skylights.
When comparing quotes, be wary of rushing for the lowest price. If one quote is significantly lower than the rest, ask yourself why – they are unlikely to be reducing their own margins, so how they are saving on costs?
References
Before make a decision, ask your preferred choice for a couple of references, ideally from customers who they have fitted roof lanterns for in the past. Don't be afraid to ask people for a few minutes of their time to answer some questions – if they have recently fitted a new roof light or completed an extension themselves they will understand the importance of finding the right tradesperson for the job. Ask them about the quality of the workmanship and whether the job was completed on time and in budget (and if not, why not?).
Agree a plan (and stick to it!)
Make sure you have a clear written and signed agreement of the cost, timing and scope of the job before work starts. Set a schedule for payment and check whether VAT will be added. If you are commissioning someone to complete a bigger project, such as an extension, make sure that they are happy to undertake roof lantern installation as part of that process.
Check that both you and your builder have adequate insurance cover and that you understand the planning and building regulations that apply to your project.
Help is at hand
If there are any issues with the installation process, remember that you or your builder can call Ultrasky's dedicated technical helpline for advice. The line is open 5 days a week, 09.30-17.00, and our friendly team will be happy to help.
Buy Skylights Online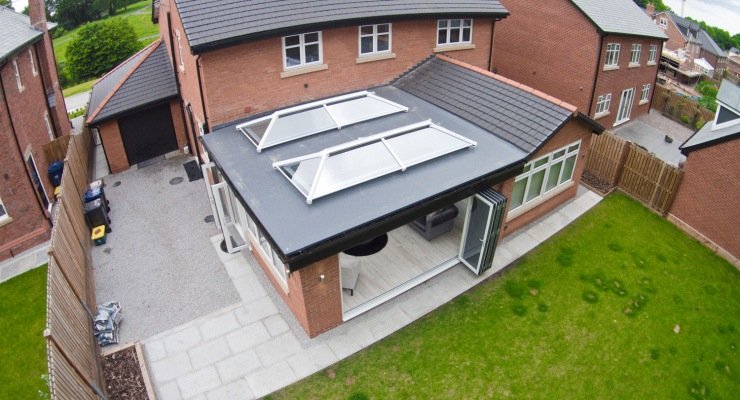 Order your Ultrasky Skylight online now or call 01200 452 246
to speak to the Ultrasky sales hotline.
Order lines open Monday - Friday 9.00am - 5.00pm
Ultrasky Case Studies