First class glass
Date: 01/08/17
Ultrasky are not only known for our quality and value, we're famous for our style too, helping to bring a real touch of class to extensions and conservatories in both traditional and contemporary settings.
Ultrasky offers not one, but four different shades of glass for skylight glazing, in our industry-leading roof lanterns, to help you and your customers to add a real sense of personal style to your roof lights.
Four shade of glass
Our high performance Conservaglass is available in clear, blue, aqua and brown. Each has its own unique look, and each has slightly different properties.
For example, aqua glass reflects the most sunlight, keeping you cool in summer, and offers the highest UV protection to stop furniture from fading, while brown and blue glass allow the most light into the room.
Blue and aqua glass create the effect of a brighter, bluer sky, even on overcast days, while brown glass creates a warm, sunny sense to the room.
Combine our glass shades with our four different frame styles and you have no less than 16 different colour combinations to choose from, helping your customers to get exactly the roof light look that they want to match their existing home, their new extension and their personal preferences.
High performance
Whichever shade your customers choose, you can assure them of the very highest quality and performance, backed by a ten year guarantee. All panels are made of toughened glass, with 4mm panes separated by a 16mm argon gas filled gap, and all have warm edge spacers.
This means that their roof windows will keep them warmer in winter and cooler in summer, especially when combined with our ultra-efficient frames and thermally broken roof bar.
Our roof lantern windows are even smart enough to clean themselves, which is a crucial design element when your windows are fitted out of reach on the roof.
With higher performance and higher quality, in so many more glass and frame colour combinations, Ultrasky is the only choice for roof lanterns.
Buy Skylights Online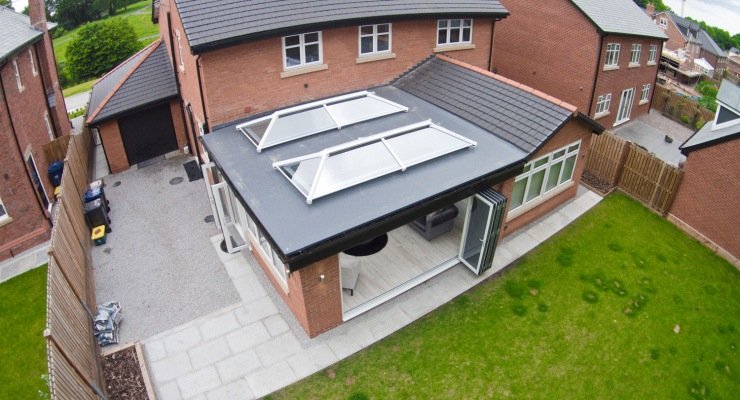 Order your Ultrasky Skylight online now or call 01200 452 246
to speak to the Ultrasky sales hotline.
Order lines open Monday - Friday 9.00am - 5.00pm
Ultrasky Case Studies