Give your home a health kick with UltraSky
Date: 28/08/17
We all know that a bright, warm house helps us to relax, feel comfortable and enjoy our home. But did you know that it may also help keep you healthy?
A new European-wide study* has found that people living in dark and damp homes are more likely to report poor health than those living in 'healthier' properties. In the UK 8% of people living in well-lit homes reported that they were in poor health, but this figure rose to 10% for those living in dark properties – an increase of 27%. This startling correlation shows just how important it is to create a light and healthy home.
If your home is dark and gloomy, then you might be concerned about how this could affect your wellbeing. But how do you turn your dimly lit property in to a bright healthy home? Luckily, UltraSky can help.
Help! My windows are tiny!
If you're currently living in a property where the windows are small and don't let in much natural light, then it might be time to consider new ways of adding sunshine to your home. Adding new traditional windows can be difficult: extra glazing can change the external aesthetic of your home or compromise your privacy. Unlike traditional windows, UltraSky roof lights let in natural light from above, so they are perfect if your house is overlooked. Our skylights are available in a range of colours and materials so that you can choose a design that is in keeping with your property's architecture and matches your personal preference.
Help! My living room is a dark internal room!
Getting light in to the centre of a property may seem an impossible challenge – but UltraSky have the answer! A roof lantern not only brings light flooding in to the heart of your home, it also creates a beautiful design feature. An UltraSky roof light can act as a focal point in your living area, a perfect place for your dining table so that you can eat bathed in atmospheric evening light or benefit from some energising natural light with your breakfast in the morning. That's what we call a healthy start to the day!
Help! My kitchen is cramped and dark!
Mealtimes should be happy and relaxed times, but cooking in a small, gloomy space can mean that making a meal is stressful. Perhaps it would be easier to reach for the ready meal or order a pizza? Installing an UltraSky rooflight as part of a kitchen extension can help to keep you cooking happily and eating healthily. With an UltraSky roof lantern, even a small extension can transform your kitchen and living area, bringing in plenty of natural light that makes the space feel bigger and keeps your mood brighter.
Whatever your development challenges, UltraSky can provide innovative natural lighting solutions to keep your home, and you, in good health. Call our expert customer service team today to discover how an UltraSky roof lantern could transform your property: 01200 452 246 (Monday-Friday, 9.00am-5.00pm).
*Velux Healthy Home Barometer 2017 Report
Buy Skylights Online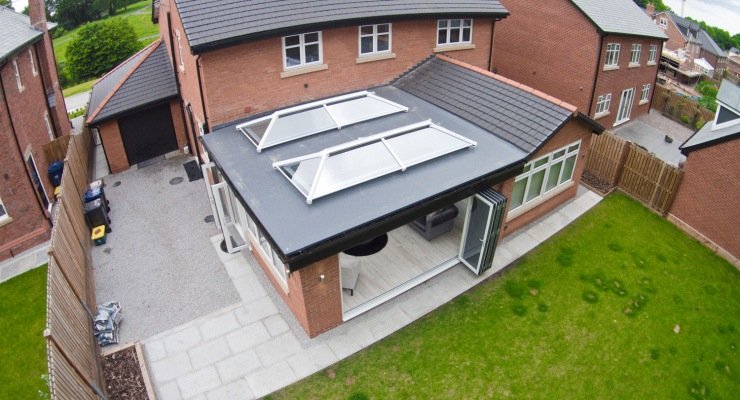 Order your Ultrasky Skylight online now or call 01200 452 246
to speak to the Ultrasky sales hotline.
Order lines open Monday - Friday 9.00am - 5.00pm
Ultrasky Case Studies