Hidden Strength
Date: 26/07/17
One of the biggest selling points of the Ultrasky lantern is its simple, slender appearance. Effortlessly elegant, the sleek design belies the strength of the structure, allowing the maximum possible light from the angled panes, with the minimum number of supports blocking the view.
Many builders and roof light fitters have fed back to us about how much their customers particularly like this element of the Ultrasky product. They love how the modern design contrasts sharply with the clumsy, thick-barred roof lights they often see on older buildings.
Engineered for strength
Whether finished in aluminium or PVC, the Ultrasky lantern rooflight has strength built in. Its superior spanning performance means that it can be specified in sizes up to 4m long and 2m wide, while still featuring just a few, narrow supports, well spaced out along its length.
And while they may appear sleek and understated, you can rest assured that Ultrasky roof lanterns are robust enough to withstand even the toughest weather, and are tried and tested to the exacting standards of the British Board of Agrement.
Designed for warmth
Of course, strength is just one of the properties of the Ultrasky rooflight lantern. As well as delivering a remarkable span, the ridge also delivers exceptional thermal performance. The thermally broken and insulated ridge and roofbars are designed to ensure that while the light floods in, heat does not flood out. In fact, our patented thermal technology means that the Ultrasky product is the most thermally efficient rooflight available today.
A complete package
With a unique combination of structural strength and thermal performance, elegant beauty and exceptional amounts of light, the Ultrasky roof lantern is a real asset when it comes to extension sales. Unrivalled in the marketplace, it gives you something special to inspire your customers with, lifting your designs to the next level.
Remember, Ultrasky can manufacture your rooflight to order, with bespoke sizes to fit almost any extension design. So recommend the best to your customers and let Ultrasky roof lights seal the deal for you.
Buy Skylights Online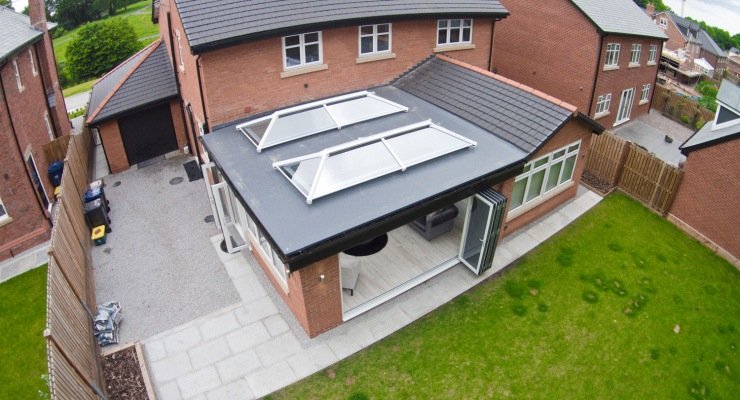 Order your Ultrasky Skylight online now or call 01200 452 246
to speak to the Ultrasky sales hotline.
Order lines open Monday - Friday 9.00am - 5.00pm
Ultrasky Case Studies