Host an unforgettable festive celebration!
Date: 11/12/17
Holding a Christmas party for friends and neighbours is a wonderful way of marking the beginning of the Christmas season. With an Ultrasky roof lantern, you'll have the space for a celebration and a stylish centrepiece too.
The more the merrier!
In the last century, separate dining rooms, kitchens and lounges were the norm. Now more and more people are opting to knock down interior walls and create larger, open plan living areas. To create even more space, single storey extensions are also a popular home renovation project. These bigger living spaces give you plenty of room to host large gatherings – whether that's having the neighbours round for mulled wine on Christmas Eve or getting all the family around the table for Christmas dinner.
But open plan living isn't without its draw backs. For instance, it can be difficult to get natural light in to the centre of a large room. An Ultrasky roof lantern solves this problem by bringing light directly in to the heart of your home. Our unique design uses less bars and has a superior spanning performance compared to other brands. This ensures that the maximum amount of light enters the room below. We also offer bespoke sizes, with widths from 1000-2000mm and lengths from 1500-4000mm, allowing you to make the most of the space you have.
Style to be proud of
A Christmas party is a chance to show off your home at its best. Fairy lights, colourful decorations and a glitzy Christmas tree will help to make your home feel festive, welcoming and glamourous. But to really make your neighbours go green with envy, a bespoke Ultrasky roof lantern is just the kind of stylish statement you need. Our roof lanterns feature clean lines and have a timeless aesthetic that will enhance both traditional and contemporary properties. A roof lantern not only brings light in to the room, it also raises the height of your ceiling, making the room feel more spacious and creating an impressive first impression of your home.
To create a truly unique design, you can choose from aluminium or PVC bars and a range of coloured coatings for both internal and external cladding. Our Conservaglass glazing is also available in different tints, including aqua, blue and brown. This brilliant range of choices means that you can style your roof lantern to perfectly compliment your existing décor.
A dinner under the stars
What could be more festive than a meal under a sparkling winter sky? Roof lanterns create an elegant focal point for a living room or dining area. Position your dining table under the roof lantern to enjoy meals bathed in sunshine on a warm summer's evening or an atmospheric long Christmas lunch. Ultrasky roof lanterns have exceptional thermal efficiency and feature premium quality Conservaglass glazing that is toughened against the worst of the UK weather, so no matter what the weather outside, you can dine in cosy comfort beneath your roof light.
If you're looking forward to entertaining this Christmas, treat yourself to an Ultrasky roof lantern that will transform your home in to the perfect stylish space for a party. Order online today or call 01200 452 246 to talk to one of our friendly sales team.
Buy Skylights Online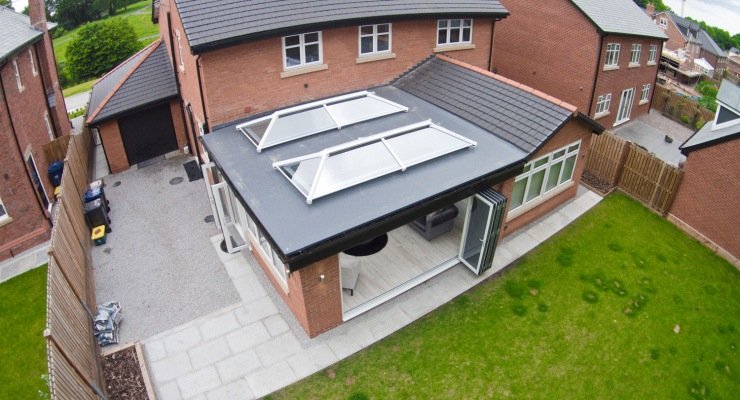 Order your Ultrasky Skylight online now or call 01200 452 246
to speak to the Ultrasky sales hotline.
Order lines open Monday - Friday 9.00am - 5.00pm
Ultrasky Case Studies