How can I add value to my home?
Date: 06/03/17
Increasing your square footage is the holy grail of home improvements. While new kitchens or elegant bathroom fittings may appeal to some buyers, in an interview with the Daily Telegraph, 'Location, location, location' property guru Phil Spencer advises home owners that "the real value lies in increasing your living space".
Not everyone has the time or money to undertake major renovations, but there are plenty of ways to create a feeling of spaciousness in your home, with or without an extension. Installing a contemporary roof lantern to flood the room with light can transform your living space, making it feel bigger and brighter. Our roof lights can be installed in existing or new roofs, so whether you are adding an extension or renewing an existing space, Ultrasky skylights are a simple, stylish solution.
Light up your living room
Skylights bring beautiful natural light in to your home. If your living space is dark, it can feel more cramped and, however hard you try to upgrade the furnishings, it is difficult to make a gloomy interior appealing to prospective buyers. Installing a roof light can make your living room, kitchen or hallway feel light, airy and, crucially, more spacious.
The strong ridge and superior spanning performance of Ultrasky skylight products mean that our lanterns use less bars than our competitors', maximising the amount of light that enters the room below. The internal ridge cladding is also carefully designed to enhance the aesthetics of your room with elegant clean lines.
New kitchen?
The kitchen is the heart of any home and many property experts recommend investing in a new kitchen to boost your house price. Installing a skylight could help to give your kitchen a more contemporary feel, which is important especially if you are targeting first time buyers or young families who may be put off by an old-fashioned interior.
Styles to suit
It's important that whatever home improvements you decide to invest in, they suit the style of your property and the surrounding area. Ultrasky roof lanterns come in a range of frame materials, colours and glazing options. Bars can be clad in PVC or aluminium and white, anthracite grey or satin black coatings are available inside and out to match existing window frames and the interior decor. Our 'Conservaglass' roof glass is also available in a range of colours including blue, clear, aqua and brown.
Quick fix
Many home improvement projects can be time consuming, costly and disruptive. Ultrasky skylights are comparatively fast and straightforward to install. We deliver within 10 working days of your order being placed and provide a comprehensive installation guide and dedicated technical support service for your chosen installers. And, because all our roof lights are available to everyone at trade prices, they are also very good value for money.
To take the first steps towards home improvement today call our friendly customer service team to discuss your requirements on 01200 452 246 Monday - Friday 09.00 - 17.00.
Buy Skylights Online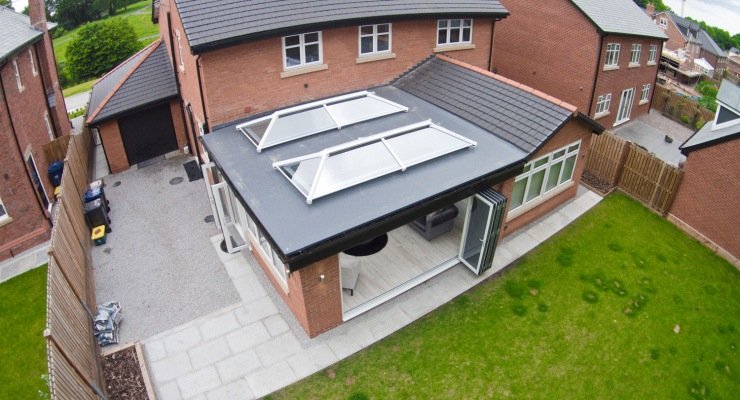 Order your Ultrasky Skylight online now or call 01200 452 246
to speak to the Ultrasky sales hotline.
Order lines open Monday - Friday 9.00am - 5.00pm
Ultrasky Case Studies