How to find the right skylight for you
Date: 13/03/17
How to find the right skylight for you
From fabrics to furniture, there are lots of decisions to make when you're renovating your home. We can't help you with the colour of your carpets, but we can help you find a skylight that is perfect for your style, space and budget.
Key qualities
If you're choosing between a range of products, before considering the aesthetics, look closely at technical design and build quality. Ultrasky's roof lanterns are manufactured to the highest standards. We take care to select the best available materials and our product design is based on years of experience. As a result Ultrasky skylights rate amongst the best in the industry for thermal efficiency, which means that your home will stay warm in the winter but won't overheat on hot sunny days. Our superior quality 'Conservaglass' glazing is also self-cleaning and toughened to withstand the worst of British weather.
Ultrasky are engineered by Ultraframe, renowned as the market leaders in glazed roofing design and manufacture, with over 30 years experience and more than 1.5 million glazed structures successfully completed. We're a supplier you can trust, and we are committed to delivering the best product on the market.
Maximum light
Skylights are an excellent way to bring more natural light in to an existing room or a new extension, reinvigorating your living space and even saving you money on your energy bills. How much light a skylight lets in depends on its size and design. Ultrasky products have a unique structure which uses less bars than competing brands. This maximizes the amount of light that enters the room below. Our roof lights are also available in bespoke sizes, so that you can make the most of whatever space you have.
Stylish choices
Ultrasky roof lanterns are designed to fit effortlessly alongside your existing architecture and the unique style of your home. We offer an industry leading choice of colours and materials so that you can tailor your skylight to suit your tastes. PVC or aluminium frames are available both internally and externally and you can choose from white, anthracite grey or satin black coatings. Our 'Conservaglass' glazing is also available in a range of colours including blue, clear, aqua and brown. We know that, when it comes to creating your dream home, every detail matters, so our internal cladding is carefully finished to enhance your interior with elegant clean lines and maximum natural light.
Value for money
Our skylights are available at trade prices to all our customers, meaning you get great value for money whether or not you are a tradesman. Placing an order couldn't be easier. You can order online, pay by credit card and select your desired day of delivery. Once your order has been confirmed we can usually deliver within 10 working days (for a standard size or colour).
Installing an Ultrasky skylight is a straightforward job for a building or roofing contractor. The process is outlined in our detailed installation guide available to download from our website and if you do have any questions about your delivery or installation you can call us, 09.00 to 17.00, 5 days a week.
We work hard to make sure that from ordering to installation, your customer experience is smooth, fast and hassle-free. We'll take care of the skylight, so that you have more time to spend deciding on the perfect shade of paint…
Buy Skylights Online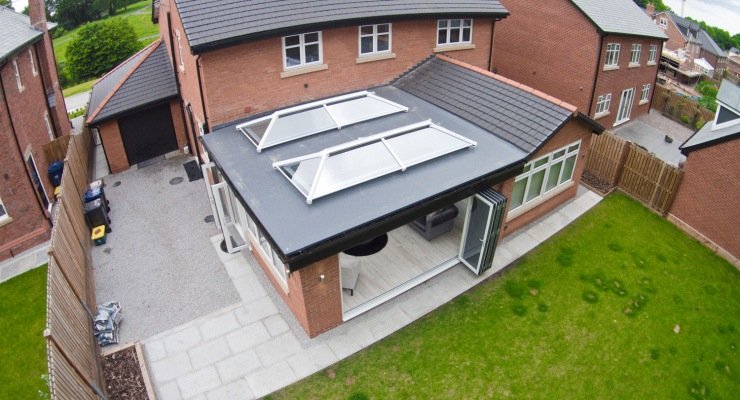 Order your Ultrasky Skylight online now or call 01200 452 246
to speak to the Ultrasky sales hotline.
Order lines open Monday - Friday 9.00am - 5.00pm
Ultrasky Case Studies