It's not too late… Roof lanterns delivered in just seven days
Date: 17/07/17
Ask any architect or builder what their pet hate is, and you'll get the same answer – clients who change their minds halfway through the build, moving the goal posts and making everything so much more costly and complicated.
But unless you have the benefit of Grand-Designs-style 3D graphics, many people simply cannot picture their finished extension until it starts to take shape. Only when the foundations are laid can they see the size of their new space, and only when the walls go up will they get a feeling for how much light that space will enjoy.
It's at this point that many clients suddenly realize that their extension might feel a little dark and decide that they want more light in their new room. Fortunately, with Ultrasky, you can buy roof lanterns online and have them manufactured to order and delivered in just seven days.
Order your roof skylights online, in standard colours, and Ultrasky will give you an instant price based on your bespoke measurements, so you can get client approval for the extra spend straight away.
You'll still enjoy the same high quality craftsmanship and state of the art, thermally insulated materials as any other Ultrasky customer, which means your customer will be delighted with the results.
Please take care to double check your online rooflight request before you submit it though, because with our swift service, there really is no room for error. Once you have taken your precise measurements and entered them on our website, Ultrasky will start manufacturing your lantern rooflights often within 24hours.
Once it is completed, your finished Ultrasky roof lantern will be delivered direct, anywhere in mainland UK, for a single set fee, with the frame and glass delivered separately to ensure everything arrives in perfect condition, ready to slot right in to your pre-prepared support frame.
We can't promise to make your clients any easier to work with, but Ultrasky's prompt, seven day production promise for roof skylights online can make a huge difference. With new roof windows within such a short time, you can now change the design of their extension right up to the point when you finish building the walls.
Buy Skylights Online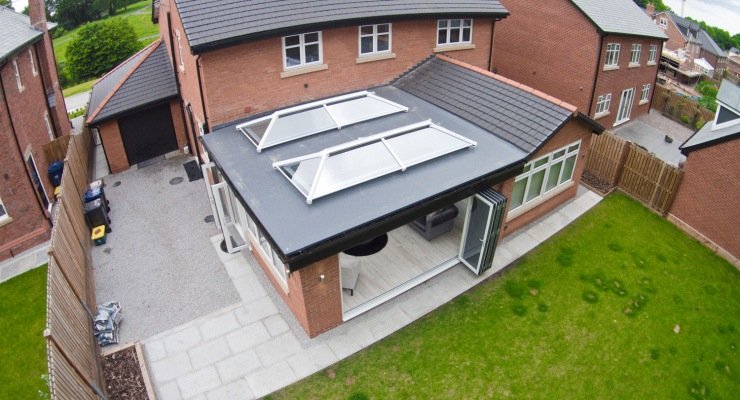 Order your Ultrasky Skylight online now or call 01200 452 246
to speak to the Ultrasky sales hotline.
Order lines open Monday - Friday 9.00am - 5.00pm
Ultrasky Case Studies