Let the sun shine in to your home this Spring
Date: 24/04/17
Have you noticed how a little spell of sunshine can put a smile on your face? We all feel better for a bit of sun, but it can be hard to find time to spend outdoors. Ultrasky roof lanterns bring sunshine right into the heart of your home, so that you can experience the benefits of natural light all through the day.
Start the day well
Many people find that natural light can help them wake up and start the day feeling bright. So creating a kitchen and dining area where you can enjoy your morning cup of coffee in a sunny spot, might help you get the day off to a good start.
Traditional galley kitchens can be dark, cramped and often rely on artificial lighting. Adding windows may be difficult, as wall space may be taken up by units and kitchens are commonly at the rear of the property where they can be overlooked or shaded by neighbouring houses. Roof lanterns don't have these restrictions. They can be fitted in existing flat roofs or as part of a flat-roofed single-story extension, and let the light in while maintaining your privacy.
Ultrasky roof lanterns have less bars than competing brands, to allow maximum light in to the room below, and come in a range of bespoke sizes, colours and materials to match the design of your property. They are an ideal way to give your kitchen (and your mornings) a new lease of life!
Stay healthy and happy
There is evidence that sunlight has an important role in keeping your immune system strong and your mind positive. If your living area is a little gloomy, you might find that your mood goes the same way! A roof lantern floods your home with light, allowing you to enjoy the sun even when you are spending time indoors. And with an Ultrasky skylight you can soak up the rays without having to worry about harmful UV radiation. All our roof lights use superior quality Conservaglass glazing, which contains protective UV filters, an important feature that also reduces fading on furniture and fabrics.
Bringing more light in to your home could even save you money on your energy bills – and that's definitely something to smile about!
…come rain or shine
Sadly the great British weather doesn't always bring us sunshine. While we might dream of spending every summer evening out in the garden, in reality we have to make the most of many rainy days and chilly nights. That's why Ultrasky manufacture roof lanterns to our own unique 'recipe' that makes them amongst the most thermally efficient on the market, keeping your home warm in the winter and preventing overheating in the summer. Our toughened glazing withstands even the harshest UK weather conditions and all our units are guaranteed for 10 years.
With Ultrasky roof lights you can create a comfortable living space that is the perfect place to relax, whatever the weather throws at you. So you may have to cancel the barbeque, but you can still enjoy the long, light summer evenings. When they finally arrive…
Call Ultrasky today on 01200 452 246 or download our brochure to find out more about how an Ultrasky Skylight could brighten your home.
Buy Skylights Online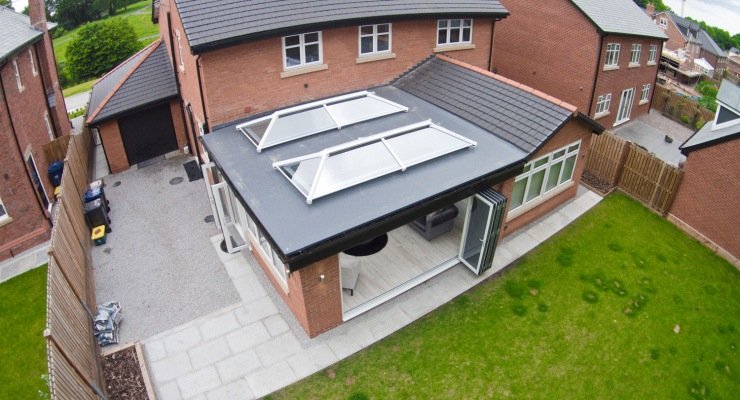 Order your Ultrasky Skylight online now or call 01200 452 246
to speak to the Ultrasky sales hotline.
Order lines open Monday - Friday 9.00am - 5.00pm
Ultrasky Case Studies