Modern Day Skylights for your Home
Date: 24/02/20
The way that we live as families has changed over the years, and with that change has come a requirement for new types of living spaces. More and more families are choosing to improve their home, rather than move to a new one when they need extra space. One of the most common ways to do this is to add a conservatory/orangery or an extension.
The types of spaces that we are adding onto our homes have also changed. While in the past, conservatories would nearly always be separated from the rest of the home by locking doors, these days, more families are choosing to add new living spaces that are open plan to the rest of their home. In addition to this, the rooms adjoining the new living space are often also knocked through, creating large sociable spaces for families to live, cook and dine in together.
Modern Skylights = Natural Light
While the key driver for families changing and extending their homes in these ways is to gain extra space and/or open-plan space, for many, a key aim is to bring more natural light into their home. A room with plenty of natural light is not only brighter and less gloomy feeling, but it will also feel larger. It has also become acknowledged over the years that natural light has mood-boosting qualities, and so a room that is flooded with natural light not only looks nicer, but it will also be more pleasurable to spend time in compared to a room that is dark and gloomy.
The key to getting this all-important natural light is modern skylights. Modern skylights are very versatile and can be used on both orangeries and flat roof extensions. Some homeowners even use modern skylights on other areas that can benefit from extra natural light such as a landing. Modern skylights can be included in the design of a new orangery or extension or can be retro-fitted to an existing extension or landing area. By adding skylights to an existing part of your home, the huge amount of natural light that will be brought in will completely transform the space.
Modern Skylight Styles
If you have chosen to enhance your home with modern skylights there are two main options to choose from. These are flat skylights or lanterns. Both of these are types of modern skylight and both can be used on a new or existing extension or orangery, or an area such as a landing. In terms of choosing between the two main types of modern skylight, there is no right or wrong answer. Lanterns and flat skylights look very different in appearance and so the choice is largely about which look you prefer.
Lantern Modern Skylights
Lanterns are a very popular choice of modern skylight for orangeries. They look similar to a small conservatory roof in that they are pitched up to a central high ridge, and are made up of several panes of glass and several bars – known as glazing bars. While this type of skylight has become to go-to roof option for orangeries, lanterns do also lend themselves very well to more modern flat roof extensions.
The Ultrasky Lantern from Ultraframe is the most modern skylight in a lantern design available on the market. This is because is features slimline bars, has fewer bars than any other lantern for a streamlined look, and is available in modern colours such as grey and black. All of these features combine to create a lantern that is a very modern skylight option.
Flat Skylight Modern Skylights
Flat skylights are a type of modern skylight that look similar to a window in the roof. They are made up of a frame and one sheet of glass. Flat skylights sit on top of a kerb so that they are not flush with the level of your ceiling but are set up high above it. This means that while the flat skylight in itself is not pitched like a lantern modern skylight, it will still bring a feeling of height and therefore. Space, to your room.
Modern Skylight Options
Whichever style of modern skylight you choose, there are various options to choose from to personalise it to your own style. The main options for skylights include:
Modern skylights colour. Whether you choose a flat skylight or a lantern, there is a range of colours to choose from for the frame. With a lantern, you can even choose different colours for inside and outside.
Modern skylights glazing. With the glazing for both flat skylights and lanterns, you can choose from different specifications of glass. It is very important with a lantern to make sure that your glass has true self-cleaning properties. This will mean that each time it rains, a coating on the glass will be activated to wash any dirt away. This means you won't have to spend lots of time getting onto the roof of your orangery or extension to clean your lanterns. You can also choose different colours of glazing for your modern skylights.
Modern skylights material. With lanterns, you can choose from UPVC, aluminium, or a different material on the inside and outside. The choice is yours. Most homeowners choose the material to complement the rest of the windows and doors on their home.
Modern Skylights fast to fit
Another important benefit to modern skylights is that they are fast to fit. This is true whether you choose lanterns or flat skylights. Any lantern or flat skylight can be fitted in just one day. This means that adding a skylight to your home is a fast home improvement project that brings maximum benefit in terms of natural light.
Modern Skylights Energy Efficiency
The final topic to discuss about modern skylights is how warm and energy-efficient they are. Many homeowners worry – especially when adding skylights to an existing room – that it will make it colder. This is not something you need to worry about though because modern skylights are extremely energy efficient. The Ultrasky Lantern and Flat Skylight products have various features designed into them that ensure that your home will be warm. These include:
Thermal breaks inside and out on the lantern
Warm Frame Technology on the flat skylight
High-performance glass

Buy Skylights Online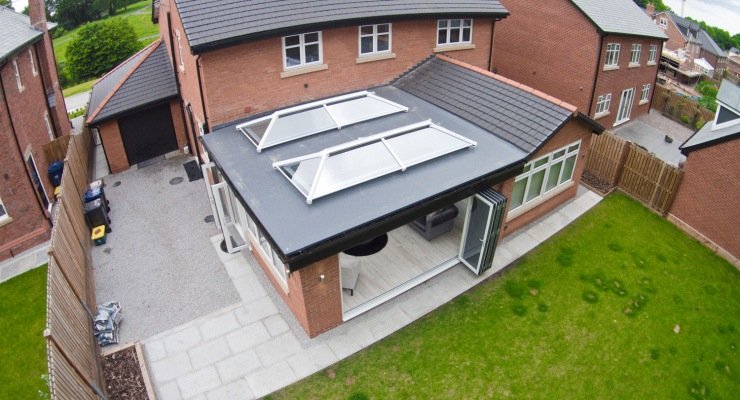 Order your Ultrasky Skylight online now or call 01200 452 246
to speak to the Ultrasky sales hotline.
Order lines open Monday - Friday 9.00am - 5.00pm
Ultrasky Case Studies