Off-the-peg or Bespoke? Which is the Right Skylight For You?
Date: 05/03/18
When buying a skylight, you'll notice that some suppliers offer a 'bespoke' solution. What's the difference?
Off-the-peg skylights
Most roof lantern and skylight suppliers sell off-the-peg sized units that are simple to order and usually quick to dispatch. These are a great option if you are replacing a standard-size skylight, or have already planned a space for a standard-size unit. Usually, these standard sizes are 1000x1500mm, 1000x2000mm, 1500x2500mm and 2000x3000mm.
Bespoke skylights
Ultrasky offer totally bespoke roof lantern units. These are great for any sizes from 1000x1500mm all the way up to 2000x4000mm. Using the Configure Your Skylight tool on the homepage, you can add your dimensions to the exact millimetre and receive a real-time quotation for your roof lantern.
The advantage of a bespoke roof lantern is not only being able to specify an exact size, but also you can choose the frame material, the colour and the glass type. With so much choice, you can create a completely unique product for your project. All units benefit from True Self Cleaning technology and are guaranteed for 10 years.
Manufacturing and deliveries
The great news is that ordering a bespoke roof lantern will not take longer to arrive than an off-the-peg unit. With Ultrasky, standard colour roof lanterns are manufactured within 24 hours from the point of order, and still include all the usual rigorous quality control schedules. They can be delivered to you in as little as 6 days.
If you need some help in measuring up for your roof lantern, you can follow the How To Measure instructions on the homepage, or contact a member of our team for advice.

Buy Skylights Online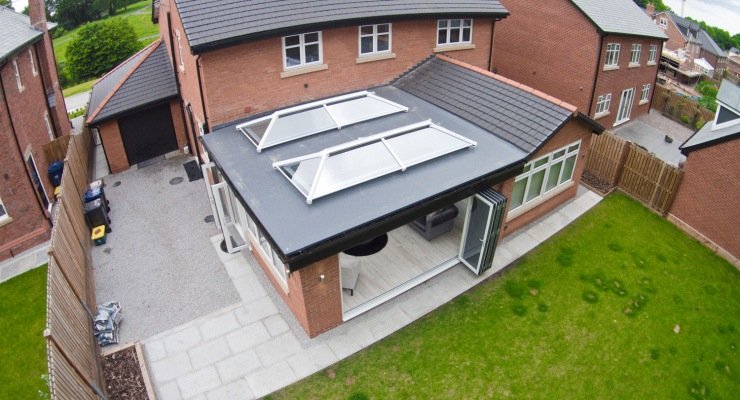 Order your Ultrasky Skylight online now or call 01200 452 246
to speak to the Ultrasky sales hotline.
Order lines open Monday - Friday 9.00am - 5.00pm
Ultrasky Case Studies