Roof Lantern vs flat skylight – which is the best fit for me?
Date: 15/10/17
So you've made the decision to light your room or commercial property with natural sunlight. Great! Whether you choose a roof lantern or a traditional flat skylight, you're going to make a big difference to the feel of the room and to the value of the property.
Now you face a decision: roof lantern or skylight? Both fill your space with lots of natural light. But these two different designs have their own advantages that you need to consider before you make a purchase.
Roof Lantern Advantages:
A roof lantern can be a stunning design feature, acting as a focal point for a dining area or open place living space
The elegant design can be more fitting with a period home, or a home with significant architectural value.
A roof lantern are designed to fit easily in to a new or existing flat roof, and so are perfect for single storey extensions.
A roof lantern can give you more headspace if there is limited ceiling height.
The larger surface area of a roof lantern will dramatically increase the amount of light that comes into the room.
Roof lanterns generally have more frame options than traditional skylights – Ultrasky offer frames in PVC, Aluminium, Anthracite Grey and Satin Black as well as the traditional White.
Roof lanterns are more thermally efficient than traditional skylights keeping the room cooler in the summer and warmer in the winter.
Skylight Advantages:
Flat skylights are generally better for pitched roofs.
Although roof lanterns can be vented for air circulation, many skylights can be fully opened. This may be an advantage if you have a poorly ventilated room.
Whichever solution you choose, you can be sure that it will transform you interior and flood your home with beautiful natural light. If you're still not sure which to choose, call our customer service team on 01200 452 246 to find out more about UltraSky roof lanterns (lines open Monday – Friday, 9.00am - 5.00pm).
Buy Skylights Online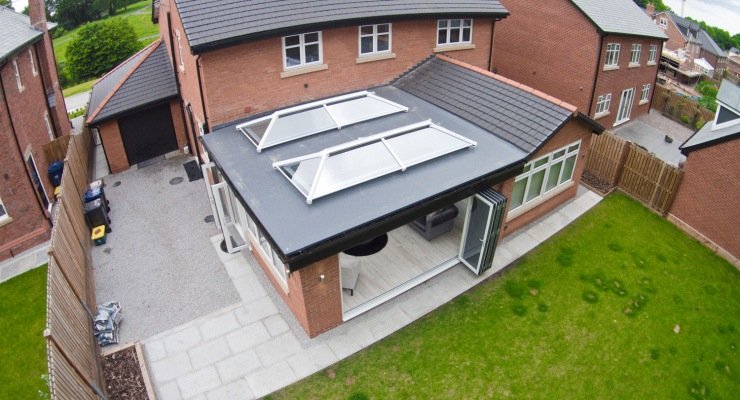 Order your Ultrasky Skylight online now or call 01200 452 246
to speak to the Ultrasky sales hotline.
Order lines open Monday - Friday 9.00am - 5.00pm
Ultrasky Case Studies