Roof Lanterns use Thermal Technology to Keep your Room Cool in the Warmer Months
Date: 09/04/18
We've already looked at Ultrasky's thermally efficient skylights with conservaglass and how it uses cutting edge technology to retain the warmth of your home and keep out the cold in winter. It's less well known, however that this technology is also great at keeping your room cool in the warmer summer months.
If you look at the governments energy.gov website there is lots of useful information about ways to mitigate the sun's harmful rays through your roof window or skylight. This includes common-sense advice like 'close your curtains during the day' and 'Install awnings' or 'apply reflective film to the glass'.
None of this is necessary with Ultrasky's amazing skylights with conservaglass. The glass already reflects the sun's harmful UV rays through its built-in filter technology. The double-glazing cavity is filled with ultra-efficient argon gas which prevents heat transfer. This thermal insulation even extends to the frame which is thermally broken to keep the warmth of the sun outside.
When buying a roof lantern from Ultrasky, you'll have a choice of tinted glass: Blue, Aqua, Clear or Brown. Aqua is the most efficient at blocking sunlight: it has a 92% efficiency on UV rays and 72% solar rejection, but all of the choices are highly efficient. Even the Clear glass will block 78% of UV rays.
So, if you're thinking of installing a roof lantern but are concerned about over-heating the room like a greenhouse, make sure you install a thermally efficient unit like those from Ultrasky. For more details contact us.
Buy Skylights Online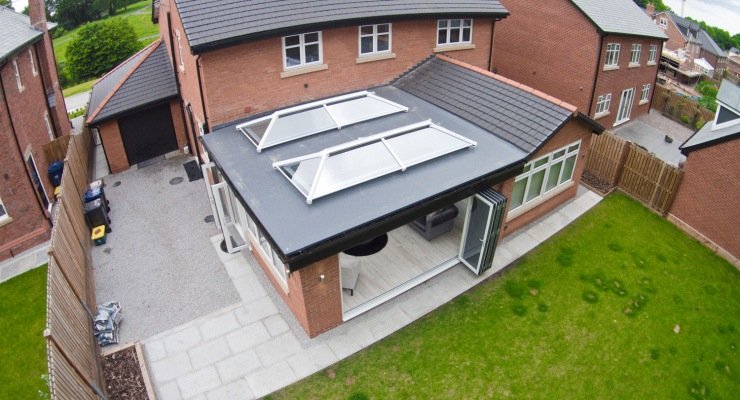 Order your Ultrasky Skylight online now or call 01200 452 246
to speak to the Ultrasky sales hotline.
Order lines open Monday - Friday 9.00am - 5.00pm
Ultrasky Case Studies