Roof Skylights Advice and Options
Date: 13/06/19
If you're thinking of adding a flat-roofed extension to your home, or already have a flat roof extension and would like to upgrade and enhance it, then roof skylights are an important consideration.
While many of the flat roof structures shown on popular home improvement programmes such as Grand Designs feature a solid roof, for the room below to feel light and spacious, it is imperative to include some form of glazing in the roof, using products such as lanterns and flat skylights.
This handy guide explains the various options for roof skylights that are available to you so that you can plan your home improvement project with total confidence that it will be light, airy and thermally efficient.
Flat roof extensions and roof skylights

Flat roof extensions have moved on hugely from their poor reputation in the 80's thanks to huge advancements in material technology in components such as membranes. This means that they are now a fantastic, contemporary option for adding additional living space to your home.
It's important when adding any kind of extension to your home to consider the light, both in the new living space and also in the adjoining rooms. Adding an extension to your home which doesn't include an element of glazing in the roof will not only make the new extension look dark but also the rooms which it leads off.
In order to create a bright and airy living space which feels as large as possible, it is vital that you include roof skylights into your design. Natural light not only makes a space feel larger, but it also ensures that your extension is more enjoyable to live in – so choosing the best roof skylight for your home improvement project is an important consideration.
Types of roof skylight

There are two main types of roof skylight that tend to be used in home extensions – flat skylights and lanterns.
Flat skylights are exactly as the name suggests – a large roof window which features a flat piece of glass. This type of roof skylight has become very popular in contemporary home extensions thanks to the strong clean lines that perfectly complement modern home extensions.
Flat skylights may be simple in design, but they provide a striking effect when set up high on a kerb. This means that from inside, the flat roof skylight won't be level with the roof of your extension, but will be set up high with plaster leading up to the glass.
This type of roof skylight is available from Ultraframe in the form of the Ultrasky Flat Skylight. Featuring edge-to-edge glazing with only the glass visible from inside, this is the ultimate in contemporary roof skylights and also offers the very best in thermal technology, meaning that your new living space will be a comfortable temperature all year round – just like any other room in your home.
The other option for a roof skylight is a lantern roof. This type of roof skylight is essentially a small conservatory roof – pitched up to a central ridge and featuring glazing bars to separate the various panes of glass.
The Ultrasky Lantern from Ultraframe is also a fantastic choice for a contemporary extension as it features 25% fewer bars than conventional glazed roofs – meaning there are fewer bars and more glass, to allow for the maximum amount of light to enter your room and of course, to provide clear views of the sky above. It's also the warmest lantern roof skylight on the market, with thermal breaks throughout and a choice of performance glazing options.
Available in a choice of aluminium and PVC internally or externally, the Ultrasky Lantern is a roof skylight that can be customised to meet your exact project requirements.
Roof skylight colour options

There are various colour options available – for both the glazing and the frame - when it comes to choosing your roof skylight – whether you go for a flat skylight or a lantern.
Ultrasky Flat Skylight Colour Options

If you choose the Ultrasky Flat Skylight for your extension, this is available in grey, black or white, ideal to complement any home. Of course, because this type of roof skylight is frameless, you will only see the colour of the frame from outside if looking down from an upstairs window.
There is also a choice of colours for the glazing in the Ultrasky Flat Skylight, with clear or blue glass both available. Blue glass is a popular choice for roof skylights as it ensures a nice bright hue is cast into the room below, no matter how grey the skies may be outside – ideal for the unpredictable British weather!
Ultrasky Lantern Colour Options

If your preferred roof skylight is the Ultrasky Lantern, then this is also available in grey, black or white. Colour is an important consideration with this system as the glazing bars can be seen from inside as well as outside, so choosing the right colour to complement your interior design scheme is a key decision in your project planning. There is also the option to specify different colours on the internal and external faces – speak to your chosen Ultraframe installer to advise you further on the colour option combinations that are available on this popular roof skylight.
We hope that this guide has answered some of the key questions you may have had about the main types of roof skylight – flat skylights and lanterns.
If you wish to research the topic of roof skylights further as you progress your home improvement project, take a look around this site or contact your local Ultraframe installer who will be able to offer advice and inspiration on the best roof skylight for your home.
Buy Skylights Online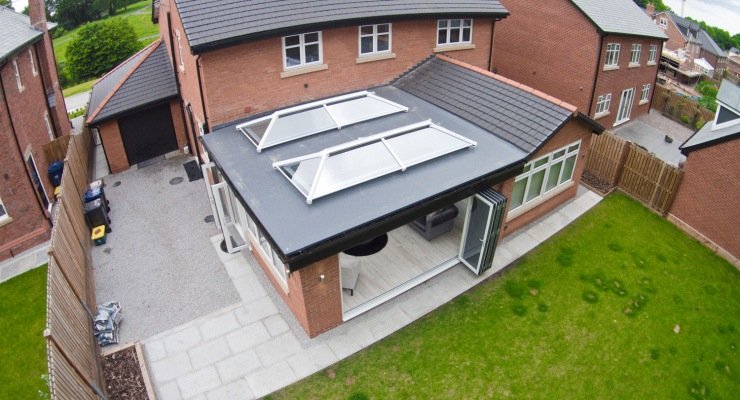 Order your Ultrasky Skylight online now or call 01200 452 246
to speak to the Ultrasky sales hotline.
Order lines open Monday - Friday 9.00am - 5.00pm
Ultrasky Case Studies