Roofs delivered to your door
Date: 15/08/17
As anyone who watches the many building shows on TV will tell you, the delivery of windows, to make the structure weather-tight, is always a major step in the building process. Sadly, in many cases, it can also cause major delays, as production falls behind schedule, or delivery just doesn't happen.
As a contractor, this kind of delay can cost you valuable time and money, so you need a supplier you can depend on to get your specified roof windows to you on time, as ordered, and in perfect condition.
Dependable delivery
At Ultrasky, we take great pride in delivering on our promises. Order online and we'll start manufacturing your chosen roof lanterns to your exact measurements within 24 hours, ready for delivery in as little as six days.
We use tried and trusted partners to deliver across the country, five days a week, with a single, standard delivery charge for the whole of mainland Britain. So you'll pay the same rate whether you're just off the M25, or miles from civilization in the Scottish mountains.
We'll even ship to non-mainland locations for a small extra charge, so you can count on the quality of Ultrasky wherever you are.
Unrivalled communication
At Ultrasky, we work hard to make sure our service is every bit as good as our roof lights, so you'll always know where you stand. Instead of leaving you waiting around and wondering, like some suppliers, our team will contact you in advance of delivery, to confirm your delivery time and discuss any possible problems there may be with your site, such as limited rear access or narrow approach roads.
Please note that in order to keep your delivery cost as low as possible, our drivers usually work alone. So you'll need to make sure that at least one of your team will be available to assist them when they arrive.
The glass and frame will be delivered separately, to ensure they arrive in the best possible condition. But don't worry; we'll always endeavor to arrange delivery of both elements on the same day for your convenience. To make things even easier, every Ultrasky order comes complete with a full skylight installation guide packed with tips and techniques to help you finish the job flawlessly.
It might not make for dramatic reality TV, but our dependable delivery service does help you keep everything on schedule with your build.
Buy Skylights Online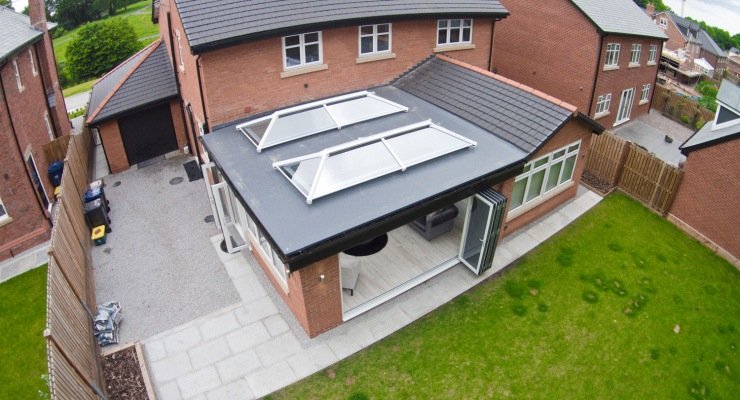 Order your Ultrasky Skylight online now or call 01200 452 246
to speak to the Ultrasky sales hotline.
Order lines open Monday - Friday 9.00am - 5.00pm
Ultrasky Case Studies