Skylight solutions for your commercial space
Date: 20/03/17
Whether you are starting up a new business or considering opportunities for expansion, developing the right design for your workspace can be both exciting and daunting. A bright, spacious office or commercial premises can make a big difference to the image and success of your business, impressing your clients and improving the wellbeing of your workforce.
Ultrasky provide superior quality roof lanterns that can transform dark, cramped rooms in to sunny, welcoming spaces. Our skylights come in a range of sizes and colours and we sell all our products at trade prices with a 10-year guarantee; so investing in an Ultrasky roof lantern is not only a sophisticated design choice, it could be a smart business decision too.
Office space
If your office space is outdated or cramped, installing an Ultrasky skylight in an existing flat roof or as part of a single storey extension could transform your working environment. It might even boost the productivity of your staff. A recent report by US company Hawarth found that office design can have an important influence on staff wellbeing. A well-designed work space can make staff feel valued by their employer and help to keep people focused. Bringing more natural light in to the office may help to keep your staff alert throughout the day and an impressive design feature like an Ultrasky roof lantern is sure to impress visiting clients.
Retail premises
Experts studying the 'science of shopping' often find that the design and layout of a retail space can influence customers' buying choices. Creating a retail space where your customer feels comfortable and happy could not only attract more shoppers in to your store, it may help to extend the time they spend in your shop and make them more likely to buy something. Bringing more natural light in to your shop with a skylight is a great way to create a welcoming, pleasing space that will draw customers in and show off your merchandise in the best light. Roof lanterns can help to create a feeling of spaciousness in a busy shop, which could also be good for trade - research has shown that people are less likely to buy in a busy, cramped environment.
Food and drink business
If your restaurant is always booked out or your pub needs a revamp, you could consider adding extra light and space with a single storey extension fitted with a stylish Ultrasky roof lantern. A contemporary extension with bespoke skylights can create a bright, atmospheric dining area that will be a valuable asset for your business. With superior thermal efficiency and tough Conservaglass glazing, Ultrasky roof lights will keep the room warm and welcoming whatever the weather, so your customers can enjoy the space all year round.
Minimal disruption
We know that in business time is money, so we will work hard to make sure that your Ultrasky skylight is delivered quickly and that the ordering process is as simple as possible. You can place your order online, pay by credit card and select your desired day of delivery. Once your order has been confirmed we can usually deliver our skylights within 10 working days (for a standard size or colour).
Installing an Ultrasky skylight is a straightforward job for a building or roofing contractor. The process is outlined in our detailed installation guide available to download from our website and if you have any questions about your delivery or installation you can call us, 09.00 to 17.00, 5 days a week.
Buy Skylights Online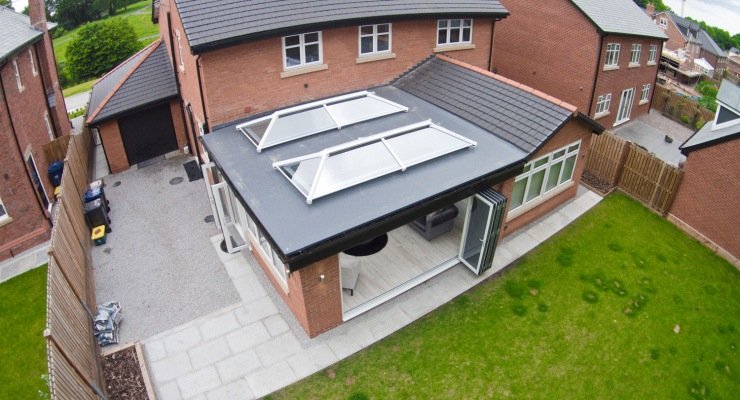 Order your Ultrasky Skylight online now or call 01200 452 246
to speak to the Ultrasky sales hotline.
Order lines open Monday - Friday 9.00am - 5.00pm
Ultrasky Case Studies