Spectacular nights under rooflights
Date: 21/07/17
It's easy to see the benefits of an Ultrasky rooflight for the daytime. With carefully angled panels and minimal supporting structures, they fill your extension with light, really bringing your new space to life. However, there is an added benefit of Ultrasky lanterns that you may not have considered, and that's the light they let in at night.
If you are a dedicated sky-watcher, you'll be used to the idea of sitting in a deckchair in a dark corner of the garden, - getting chilly while you wait for the latest stellar phenomenon to appear. And it's no better in the summer, where the air may be warm, but is also full of bloodthirsty midges waiting to make your ankles their next meal.
However, all of this changes when you install an Ultrasky rooflight. Instead of enduring the elements and the local wildlife outside, you can sit back and relax inside, enjoying a wide vista of the night sky without leaving your armchair.
There's so much to see throughout the year, that it's almost worth installing an Ultrasky roof lantern just for stargazing. There are no less than eleven regular meteor showers to look out for, as the earth moves through cosmic debris causing a fabulous fireworks display of shooting stars. The best and most famous, are the Perseids, which occur around the 12th August every year, and the Leonids, which light up the sky in mid-November. Both will reward you with several bright meteors per hour, with many more than that at their peak.
As well as meteors, you can also enjoy the spectacle of a lunar eclipse. Much more common than their solar equivalent, lunar eclipses are a spectacular sight. Often, the moon turns blood red at full eclipse, as the sun is filtered through the dust in the atmosphere, in effect lighting the lunar surface with the combined sunrises and sunsets from around the world. The next full lunar eclipse visible from the UK is not until January 2019, but there is a small partial eclipse visible on 7th August and we will see a significant part of the full lunar eclipse that occurs over Europe in July next year.
If you're already a seasoned stargazer, you'll love the comfort and convenience of having an Ultrasky roof lantern – and if you haven't taken the time to explore the heavens before, then you are in for an eye-opening treat!
Buy Skylights Online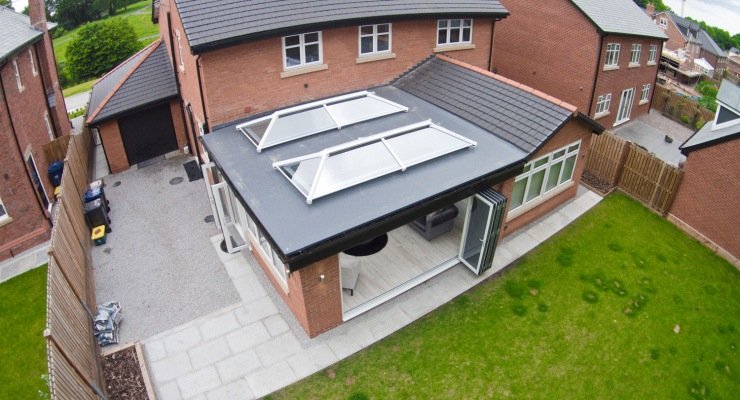 Order your Ultrasky Skylight online now or call 01200 452 246
to speak to the Ultrasky sales hotline.
Order lines open Monday - Friday 9.00am - 5.00pm
Ultrasky Case Studies