Take your Christmas decorations to new heights
Date: 15/12/17
Decorating your home is a special part of the festive season. But if your living area is dark and cramped you might need more than a few fairy lights to make it feel merry and bright. An UltraSky roof lantern might be just what you need to transform a gloomy room in to a sparkling new space.
Getting in the festive spirit
Whether you are ready with the tinsel as soon as Halloween is over or only dig out the decorations on Christmas Eve, getting the house ready for Christmas is always exciting. But if your living area is lacking in natural light it can be hard to make it feel cheery. An UltraSky roof lantern can be installed in an existing or new flat roof to bring light flooding in to the heart of your home. Our designs use minimal bars and have superior spanning performance, which maximises the glazed area and allows as much light as possible in to the room below. A lighter room can appear more spacious and a little bit of winter sunshine will show off the sparkles on your mantlepiece beautifully.
The Tree
We've all done it. It's hard to resist when you are faced with the biggest, most majestic Christmas tree on the market – but will it fit in your low-ceilinged lounge? Next year, don't compromise. Install an Ultrasky roof lantern and you'll be able to enjoy higher ceilings that give you, and your tree, more space to breathe. Raising your ceiling height with a roof lantern can make your living area feel bigger and airier and UltraSky lanterns are available in a range of bespoke sizes to suit larger and smaller properties.
Not just for Christmas
UltraSky roof lanterns are built to last, so when your decorations go back in the attic, you'll still be able to enjoy the benefits of your roof light for the rest of the year and for many more Christmases to come. We use only the highest quality materials to manufacture our products and each lantern is finished and checked individually before it leaves the factory to maintain our exceptional standards. We are so confident in the lasting quality of our products that we offer a free 5 or 10-year guarantee (dependent on the type of frame/finish selected) on all our lanterns.
Call our friendly sales team on 01200 452 246 Monday - Friday 9.00am - 5.00pm to order your roof lantern and brighten up your Christmas!
Buy Skylights Online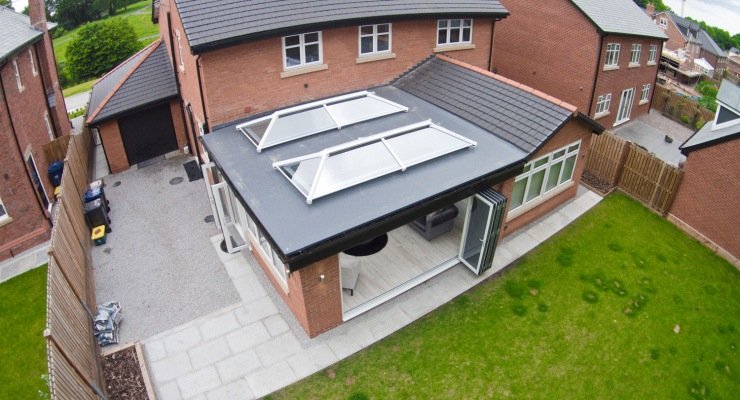 Order your Ultrasky Skylight online now or call 01200 452 246
to speak to the Ultrasky sales hotline.
Order lines open Monday - Friday 9.00am - 5.00pm
Ultrasky Case Studies