UltraSky by Ultraframe: the best choice for you and your customers
Date: 30/11/16
Ultraframe have over 30 years' experience in manufacturing and customer service is central to our business. We know how important it is to deliver top quality products and service on every single order. So if you're a tradesperson looking for reliable product for your client, that's also simple to order and fit, you can trust Ultraframe.

Ultrasky skylights are a new addition to our comprehensive range of glazed roofing solutions. We have carefully selected materials to make sure that Ultrasky roof lanterns combine high performance and lasting quality with a premium look and feel that's sure to impress your customer.
Guaranteed quality
The sealed units supplied are made to the highest industry standards. Warm edge spacer bar and argon filled, they are toughened to meet the rigorous BS EN 12150 Kitemark so can withstand the worst UK weather.

With a subtle blue tint to reduce glare yet allow the maximum amount of light to flood in, whilst all the time blocking harmful UV rays, the units are thermally efficient, meaning they keep the heat in during winter months.

All units have a 10-year guarantee.
Flexible design
Ultrasky lantern skylights have a simple, stylish design that is flexible enough to fit the needs of your project and your customer's vision for their home.

Each skylight is made to order, so as well as a range of pre-set sizes, we can provide bespoke sizes to suit your project ranging from 1000-2000mm wide and 1500-4000mm long.* You can also choose from PVC or aluminium external frames and internal cladding, with the option of white, anthracite grey or satin black coatings.
Hassle free installation
All our skylights are based on tried and tested BBA approved Ultraframe Classic roofing system, making installation a straightforward job for a professional builder or installer. We deliver the glass and frame separately to ensure each delivery arrives in perfect condition, on your chosen delivery date, ready for you to assemble and fit.

The simple installation process is outlined in our detailed installation guide available to download from our website and if you have any questions before or after delivery you can call us, 09.30 to 17.00, 5 days a week.
Value for money
Our products are available at trade prices to all our customers, meaning you get great value for money whether or not you are a tradesman. We may be able to offer further discounts for bulk orders, just contact our customer service team for more information and to set up an account.

*width and length measured to the external faces of the timber kerb
Buy Skylights Online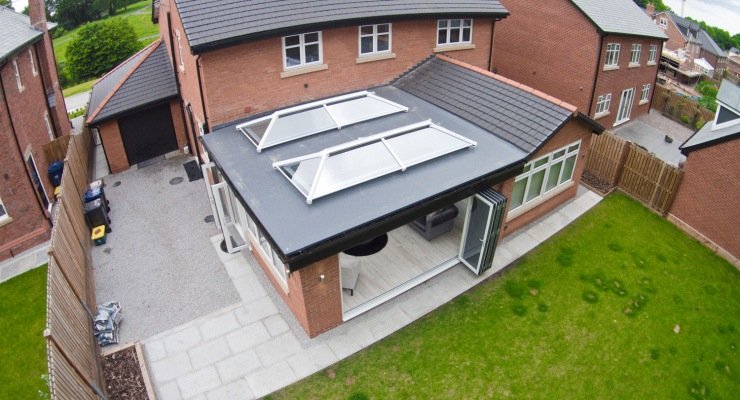 Order your Ultrasky Skylight online now or call 01200 452 246
to speak to the Ultrasky sales hotline.
Order lines open Monday - Friday 9.00am - 5.00pm
Ultrasky Case Studies