Ultrasky Roof Lantern Prices
Date: 15/07/19
Roof lanterns are commonly seen in beautiful contemporary extensions and orangeries, fuelling our desires as homeowners for stunning light-filled living spaces.
While the settings we see them installed in are certainly very desirable, the top-end look created by an extension with roof lanterns often leads us to thinking about roof lantern prices – with many people believing that roof lantern prices would make them unachievable for their own home. The prospect of contacting an installer and the fear of wasting their time if the roof lantern prices are too high puts many people off from ever finding out whether they could install these stunning roof lantern windows onto their own home.
Until now.
Using the www.ultrasky.co.uk website, homeowners can quickly and easily gain access to roof lantern prices for a wide range of standard sizes, as well as fully bespoke options. The website is fully responsive and the roof lantern price tool displays a live price on screen as different options are selected. These might include things such as size, colour, glazing spec and glazing colour.
After using the roof lantern price tool on Ultrasky.co.uk, many people are surprised to see just how affordable roof lantern prices can be, especially for a product that can totally transform your extension from a dark and gloomy space into a stunning light-filled room that is a pleasure to spend time in.
Not only this, but many people are surprised by the value afforded from the market leading roof lantern in terms of the unique selling points. Ultrasky roof lantern prices are surprisingly affordable. So here is a list of the key reasons why you should choose an Ultrasky roof lantern for your extension or orangery, aside from roof lantern prices.
Unique selling points of the Ultrasky roof lantern

WARMEST
The Ultrasky roof lantern is the warmest on the market, offering unrivalled thermal performance.
• Thermally broken inside and out.
• Thermally insulated eaves rail.
• Fully insulated aluminium undercladding.
• Supplied with a range of high performance glazing.
FASTEST
The Ultrasky roof lantern boasts the quickest assembly time of any roof lantern on the market.
• No drilling or cutting required.
• 25% less bars for a faster fit
• Easy and quick to glaze.
STRONGEST
The Ultrasky roof lantern is the strongest roof lantern on the market
• Maximum size 4M x 5.85M possible
• Boasts the UK's strongest ridge with an IXX value of 2,226k for fewer bars and larger spans.
MINIMALIST
Ultrasky roof lantern has 25% fewer bars for better views of the sky above
• 25% less bars than conventional glazed roofs.
• Superior bar and ridge strength for larger panes of glass
• No bulky radius ends.
• Neat internal finish at radius end.
CUSTOMISABLE
An unbeatable range of design options are available for the Ultrasky roof lantern, including:
• Bespoke colours to match doors, windows and decor.
• Available PVCu and Aluminium inside and out.
WEATHER TESTED
The Ultrasky roof lantern is the best roof lantern price option on the market if you are looking for a roof lantern which offers the ultimate in weather performance; in fact the Ultrasky roof lantern has been proven to be watertight in winds up to 130mph
• Triple layer storm shield at radius end.
• Less bars means less potential points of failure.
• Sturdiest, most durable gaskets and glazing stops.
If you need any more encouragement that Ultrasky roof lantern prices offer the ultimate combination of the best value roof lantern prices, coupled with market-leading features and benefits, then why not continue to read more about roof lantern prices and selling points on www.ultrasky.co.uk. On here you will find a wealth of information about roof lanterns, including pricing information, a 3D designer tool, the range of options available on Ultrasky roof lanterns and all the information you could need about how to simply place an order.
A roof lantern can transform an ordinary space into something that is truly extraordinary and roof lantern prices on Ultrasky.co.uk offer great value for money, coupled with a market-leading product that provides the very best in roof lantern aesthetics and performance.
Buy Skylights Online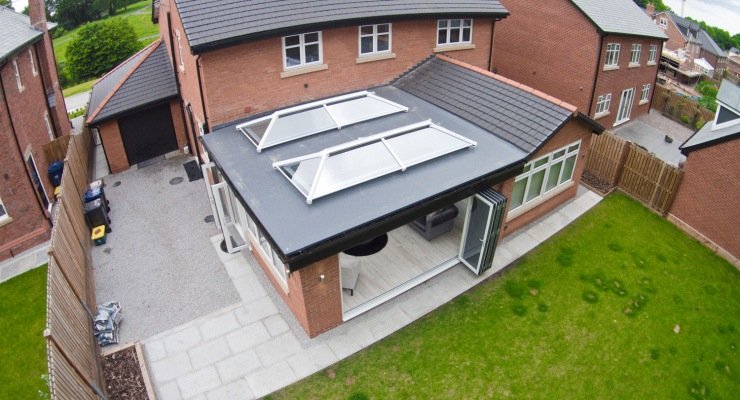 Order your Ultrasky Skylight online now or call 01200 452 246
to speak to the Ultrasky sales hotline.
Order lines open Monday - Friday 9.00am - 5.00pm
Ultrasky Case Studies