Ultrasky Roof Windows UK
Date: 22/07/19
Roof windows are becoming increasingly popular in the UK thanks to the growing trend for orangeries and flat roof extensions. If you're thinking about adding either of these popular home improvements to your home, then you will probably be looking for the best UK roof windows and wondering how you order them, how are they made and where are they despatched from.
The first decision you need to make is about the type of roof window UK you are going to choose. There are two basic styles of roof window – lantern roof windows and flat skylight roof windows.
Here's a guide to explain the difference between lantern roof windows and flat skylight roof windows:
• Lantern roof windows are like a small conservatory roof. They are pitched, with panes of glass sloping up towards a central bar at the top of the lantern roof window which is called the ridge. When looking up into a lantern roof window you can see a mix of bars and the different panes of glass.
• Flat skylight roof windows are like a flat window in your home but used in the roof of your orangery or extension. Flat skylight roof windows are made up of one large single pane of glass which sit atop a kerb. When looking up into a flat skylight roof window you can simply see one large single pane of glass and no bars.
There is no right or wrong option when choosing roof windows UK for your orangery or extension project – it's all down to personal preference and whether you prefer the pitched height and bars of a lantern, or the contemporary simplicity of a flat skylight. A lantern roof window can be seen as adding a sense of grandeur to an extension of orangery thanks to the additional height that it brings to the structure, while flat skylight roof windows UK lend themselves to ultra-modern projects, due to their simple clean lines. You can still achieve an additional sense of height with a flat skylight roof window by increasing the depth of the kerb. From the interior, this will mean that there is a plastered alcove leading up from the opening in the ceiling to the flat roof window.
Roof Windows UK Checklist

After deciding on the type of roof window that you're going to buy, the next things to find out are where your roof windows UK are designed, manufactured and despatched. When buying UK roof windows from www.ultrasky.co.uk you can be assured of the very best in roof window technology. Ultrasky roof lanterns and flat skylights have been designed and developed by Ultraframe, the world leader in conservatory and extension roofing systems.

Here's a checklist about how your roof window will be made, ordered and despatched:
1. Firstly, visit Ultrasky.co.uk and be informed and inspired by the comprehensive information about roof windows UK.
2. Make your choice between a lantern roof window and a flat skylight roof window.
3. Read the handy guide on how to measure for your chosen style of roof window https://bit.ly/2xV3s6C
4. After measuring, go to the ordering tool which features a 3D designer. As you input the dimensions for your lantern or flat skylight roof windows UK, the image will change to show you how it will look.
5. Choose from the various options for your roof window, including size, frame material, internal and external colour and glass colour. There are preset sizes of the most common roof window sizes, or you can input your own dimensions to create a roof window that is completely bespoke for you.
6. Place your roof window order.
7. If you have any queries during the design or ordering process of your roof windows UK, there is a handy online chat facility where a knowledgeable advisor will be waiting to help.
Once you've placed your order, your bespoke roof window will be manufactured at Ultraframe's HQ in Clitheroe, Lancashire. Quality is not only inbuilt into every Ultraframe roof window, but it is also checked at every stage of the manufacture, so you can be assured of a premium product that is built to last and offer the very best in roof window aesthetics and performance.
Once your roof window has been manufactured, it will be despatched direct to your home address, ready for installing into your orangery or extension.
Once roof windows UK are installed, they need very little maintenance. All of the glass used in Ultrasky lantern and flat skylight roof windows is high performance, self-cleaning glass, which utilises rainwater to activate the self-clean properties and keep them looking sparkly clean.
Roof windows are a fantastic choice for bringing light into a flat roof extension or an orangery. Choosing an Ultrasky roof window from Ultraframe means that you are ensuring that your new living space will be a warm, light and comfortable room to enjoy for many years to come.
Buy Skylights Online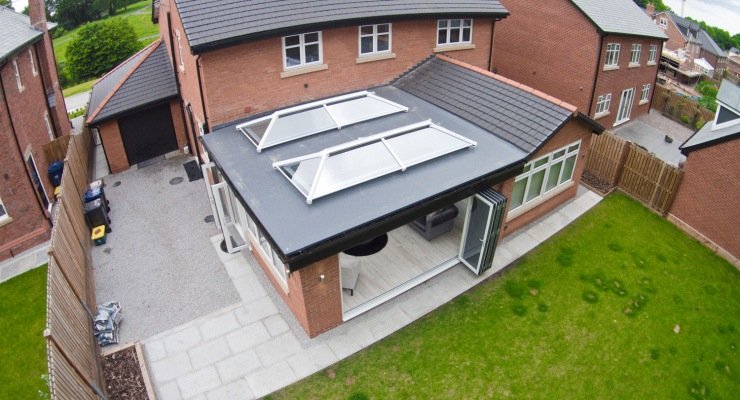 Order your Ultrasky Skylight online now or call 01200 452 246
to speak to the Ultrasky sales hotline.
Order lines open Monday - Friday 9.00am - 5.00pm
Ultrasky Case Studies