UltraSky Skylights for stunning architectural results
Date: 01/03/17
We know that as an architect your passion is turning your clients' aspirations into reality. At Ultrasky we share your determination to deliver the best possible results for your customers. That's why we are committed to producing the highest quality roof lights we can, with flexible specifications and elegant design options, to enhance your architectural projects and help deliver your vision.
Innovation
Ultrasky skylights are manufactured to the highest industry standards by Ultraframe, a market-leading glazed roofing manufacturer that supplies roofing solutions to architects across the UK and Europe.
Ultraframe have over 30 years' experience in manufacturing and innovation. We build on our existing knowledge with an ongoing process of development, refining our designs and processes to maintain the superior quality of our roof lantern products. For example, Ultrasky experts have recently rolled out new thermal insulation features, such as a thermally insulated ridge with a self-adhesive thermal shield, to ensure that our skylights are amongst the most thermally efficient of any lanterns on the market.
Quality
We are highly selective in the materials that we use. Our skylights feature 'Conservaglass', a self-cleaning, thermally efficient roof glass, toughened to meet the rigorous BS EN 12150 Kitemark. Its solar control properties keep heat in during the winter and deflect harmful UV rays while still allowing the maximum amount of light in to the room.
To create superior quality products you need to pay attention to the details. Ultrasky's roof lantern frames contain foam to provide additional insulation and combine a physical thermal break with an air-gap for extra assurance. A fully insulated ring beam also delivers 'warm touch' internals. This careful design means that you can have confidence that Ultrasky lanterns will deliver lasting quality and, in case you need extra assurance, we offer a 10 year guarantee on all our roof lights.
Design
Our roof lanterns and skylights use a 25 degree pitch, which is preferred by consumers to the lower 20 degree pitch offered by other brands. The strong ridge and superior spanning performance of the Ultrasky product mean that our lanterns use less bars than our competitors', maximising the amount of light that enters the room below. The internal ridge cladding is also designed to enhance the aesthetics of the room with elegant clean lines.
Flexibility
Ultrasky offer a range of stylish frame and glazing options on all our skylights to match your clients' tastes and your architectural requirements. PVC or aluminium frames are available both internally and externally with white, anthracite grey or satin black coatings to match existing window frames, interior design and architecture. Our 'Conservaglass' roof glass is also available in a range of colours including blue, clear, aqua and brown.
Each skylight is made to order, so as well as a range of pre-set sizes, we can provide bespoke sizes to suit your architectural project, ranging from 1000-2000mm wide and 1500-4000mm long.*
We are experienced in working with architects and specifiers to select and manufacture glazing solutions that are the perfect fit for your architectural project. Call us today to discover how we can help you to make your client's dream home a reality.
*width and length measured to the external faces of the timber kerb
Buy Skylights Online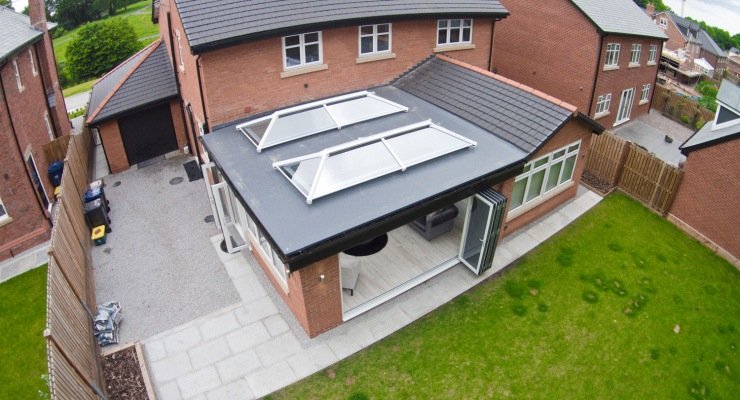 Order your Ultrasky Skylight online now or call 01200 452 246
to speak to the Ultrasky sales hotline.
Order lines open Monday - Friday 9.00am - 5.00pm
Ultrasky Case Studies