Variations of Roof Windows
Date: 27/11/19
If you are adding an orangery or extension to your home and are looking for variations of roof windows to complete and enhance your home improvement project, read on to find out more about the options available to you.
Variations of roof windows
The main variation of roof windows is to choose between a flat skylight or a lantern.
A flat skylight is a variation of roof window that as the name suggests, is flat. A flat skylight is very simple in appearance – a large flat roof window which lends itself perfectly to contemporary extensions. It is one large piece of glass with no visible bars.
The other main variation of roof window is a lantern, also sometimes known as a lantern roof or lantern roof window. A lantern it pitched up to a central ridge and is made up of multiple bars and pieces of glass.
Once you have chosen between a lantern roof window or a flat skylight for your flat roof extension or orangery, then it's important that you understand the many variations of roof window that are available to you. Choosing the right variation of roof window for your project is an important choice so make sure you fully explore and consider all of the roof window variations available to you before making your choice.
Here are the main roof windows variations:
• Roof window variations on colour. Both Lanterns and flat skylights are available in a range of standard colours, including grey and black, plus white on a lantern. There are also countless other lantern roof window variations as lanterns can be produced in any RAL colour. This means that you can have a fully bespoke lantern roof window that is coloured to your exact requirements. This is ideal to perfectly match your lantern roof window to your existing windows and doors or another feature on your home. Or you may wish to contrast with your windows and doors – this is a bold variation of roof windows but one that can look highly dramatic. With a flat skylight from Ultraframe, you don't see any frame from the interior – only glass – and so only the external colour is ever seen.
• Variations of roof window material. Another variation of roof windows that is an option on lantern roof windows is a choice of material. You can choose between uPVC or aluminium claddings. This variation of roof window material gives you a further way to bespoke design your roof window and ensure that it is perfect for your extension or orangery.
• Variations of roof window size. Choose from lantern roof windows or flat skylights in a range of sizes, either from our set sizes, or fully bespoke roof windows to your own measurements.
• Variations of roof window glazing. Your roof lantern or flat skylight can be glazed with various colours of glazing, all of which are performance glass to ensure that it deflects heat from the sun in the Summer and retains the warmth from heating appliances in the Winter. Obviously, it is also crucial that the glass allows the maximum amount of light into your home. The colour choices are clear, blue, aqua and brown (aqua and brown only available as lantern roof window variations). This is an important variation of roof windows and one you should choose carefully.
These are the key roof window variations and it is important to consider them carefully when choosing your roof lantern or flat skylights.
It goes without saying that in addition to the roof window variations detailed here, all Ultraframe roof lanterns and flat skylights are the most technically advanced on the market, meaning they will be the highest performing products in terms of thermal performance. They are also the most minimalist products available to allow the maximum amount of natural light into your home. This means that whether you install Ultraframe lanterns of flat skylights into your extension or orangery, it will be a bright, warm and cosy room just like any other in your home, and one that you will enjoy spending time in every day of the year.
Buy Skylights Online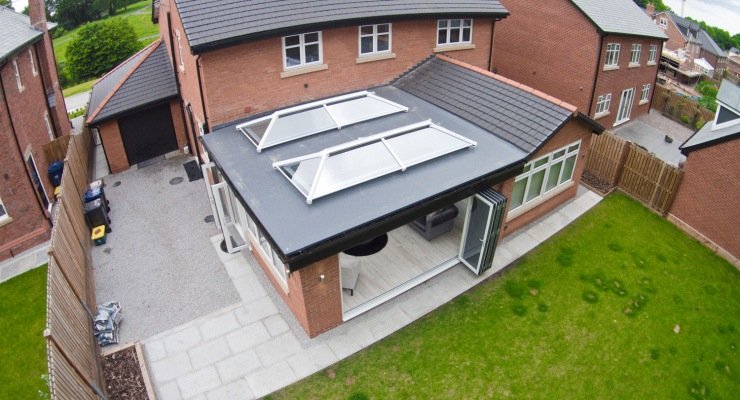 Order your Ultrasky Skylight online now or call 01200 452 246
to speak to the Ultrasky sales hotline.
Order lines open Monday - Friday 9.00am - 5.00pm
Ultrasky Case Studies