What about the mess? Skylight installations explained
Date: 22/10/17
Ultrasky supply high quality roof lanterns which we can deliver to your door quickly and safely, but what then? If you're new to the process of installing a roof lantern or skylight, you may be wondering how big a job it is. Customers working with a kitchen or bathroom space may be concerned about the mess that an installation will make, and how long the area will be out of action.
In reality, the process is a lot simpler than you'd imagine. And if you're working with tradespeople that you can trust, they should easily install an Ultrasky roof lantern within a day, and with very little mess.
What's involved?
There are 2 parts to installing an Ultrasky roof lantern: the preparation and the installation. The preparation involves cutting an aperture in the roof to the specified size. Depending on your roof surface, some strengthening may be required (eg. Steel beams). The builder will create a kerb for the roof lantern to sit on and then line the aperture. This is the messy part of the job, so make sure that the space below is protected from dust and plaster as the builder cuts through.
The actual installation is very straightforward. The roof lantern is attached to the kerb using the supplied brackets. Full instructions are included, and you can find more information on the site here.
How long will the installation take?
The preparation work will normally take half a day (but this may be longer depending on roof strength). The installation can be completed in a couple of hours.
How much will an installation cost?
This figure can vary widely depending on the size of your roof lantern, the structure of your roof, the tradesman you use and even your location in the country. Always remember to get more than one quote and use a reputable contractor. You can use the instant quote calculator on our homepage to work out what your roof lantern will cost, or call our customer service team for a quote today on 01200 452 246 (Monday - Friday, 9.00am - 5.00pm).
Buy Skylights Online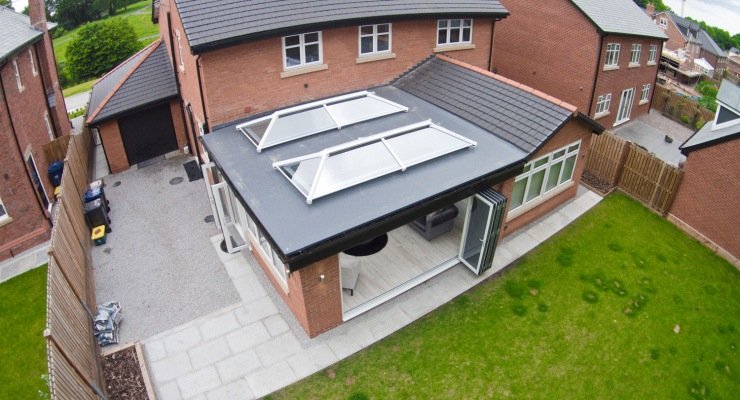 Order your Ultrasky Skylight online now or call 01200 452 246
to speak to the Ultrasky sales hotline.
Order lines open Monday - Friday 9.00am - 5.00pm
Ultrasky Case Studies