What are Flat Roof Skylights?
Date: 05/08/19
Flat Roof Skylights
Flat roof skylights are becoming more and more popular as a way to bring lots of natural light into a flat roof extension or orangery.
You may not be aware of flat roof skylights or you may have heard of them and are not sure exactly what they are. Either way, by the time you have read this article you should have all the information you need about flat roof skylights.
Flat Roof Skylights - What Are They?
Flat roof skylights are exactly as the name sounds – they are a skylight which is flat. The best way to describe a flat roof skylight is that it is like a large window which can be fitted into the roof of an extension or orangery, allowing you to see the sky above and flooding the room below with natural light. The alternative choice to choosing a flat roof skylight is to choose a lantern. The principles of a lantern are the same – a rooflight that will flood the room with light and can be used on a flat roof extension or an orangery, but a lantern is a pitched glazed roof, whereas a flat roof skylight is one large flat piece of glass.
Flat Roof Skylights -The Benefits
So, what are the benefits of choosing a flat roof skylight for your new extension or orangery?
The main benefit vs having a solid roof is obviously the massive amount of light that a flat roof skylight will bring into the room below. Ultraframe Ultrasky flat roof skylights are available in sizes up to 1400mm x 2000mm and so as you can imagine, a huge expanse of glass of this size in the roof of your extension will draw in a stunning amount of light.
Another key benefit of choosing a flat roof skylight is the simple, clean lines of the product, which are ideally suited to contemporary extensions and orangeries. From the interior, all you will see when looking up is glass and sky. These stunningly simple aesthetics are the reason why many homeowners choose to install flat roof skylights into their extension. The Ultraframe Ultrasky flat roof skylight provides the ultimate in strong clean lines as it does not have a frame but instead boasts edge to edge glass – meaning that you really do see just glass and sky. This frameless technology allows the largest possible amount of light into the room below and is a feature that cannot be found on competitor products.
Flat Roof Skylights - What are my options?
If you have already decided to install flat roof skylights onto your home extension, the next decision is to look at the options available to you to personalise them, so they are exactly as you want them.
With Ultraframe flat roof skylights, you are able to choose from black or grey for the external colour and also have a choice of glass. The glass can be either clear or blue. The properties of the glass are the same whether you choose blue or clear, but many people prefer the aesthetics of the blue glass for their flat roof skylight. This is because, adding blue glass into your flat roof skylights casts a blue hue into the room below, meaning that your room will look light and bright, even on the greyest of days.
Flat Roof Skylights – Kerb Options
Another option when buying flat roof skylights is whether or not to purchase a kerb. The kerb is the upstand which will sit on top of your flat extension roof, and the flat roof skylight will then sit atop the kerb. From the interior of the room, this will mean that rather than the flat roof skylight sitting flush with the roof of your extension, it will be raised up, giving a more dramatic appearance and really making a feature of your flat roof skylight.
Not only does the kerb enhance the aesthetics of the flat roof skylight, but it is also fully waterproof – providing flexibility at the time of installation because the kerb and flat roof skylight can be installed at the same time before your roof covering.
Where do you buy Flat Roof Skylights?
If you would like to buy flat roof skylights for your home extension or orangery project, one of the easiest ways to do this is by visiting www.ultrasky.co.uk.
At Ultrasky, you will find detailed advice and guidance on how to measure for your flat roof skylights, information about the specification of the glass, the key features and benefits of the Ultraframe flat roof skylight, plus useful information about delivery.
Buy Skylights Online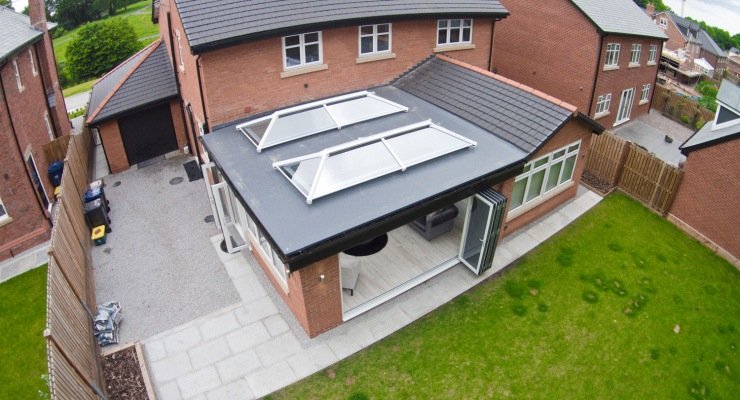 Order your Ultrasky Skylight online now or call 01200 452 246
to speak to the Ultrasky sales hotline.
Order lines open Monday - Friday 9.00am - 5.00pm
Ultrasky Case Studies