What makes UltraSky Roof lanterns unique?
Date: 09/02/17
Ultrasky work hard to produce bespoke, high-quality products that deliver superior performance and style. We are constantly improving the design, manufacture and range of our products to make sure that our skylights and roof lanterns stand out from the crowd. Here's a taste of how we make Ultrasky roof lanterns unique.
Expertly manufactured
An effective thermal break is an essential feature of high quality skylight design. Thermal breaks improve thermal performance and prevent the build-up on condensation in skylight frames, which can severely impact the appearance and longevity of a unit. The Ultrasky chambered PVC top-cap also aids with thermal efficiency by creating an increased air gap between the exterior face and the internal glazing in a roof lantern and is not available from other brands.
Aluminium under-claddings are particularly vulnerable to condensation build up. Ultrasky roof lantern frames contain foam to provide the additional insulation necessary to protect units featuring aluminium and combine a physical thermal break with an air-gap for extra assurance. A fully insulated ring beam also delivers 'warm touch' internals.
We have recently developed a new thermally insulated ridge end with a self-adhesive thermal shield. It's this level of dedication and attention to detail that enables Ultrasky to deliver the best thermal efficiency of any lanterns on the market.
Superior style
Ultrasky skylights are elegant, high-quality products that deliver a range of stylish frame and glazing options to match your clients' tastes and requirements. We offer more choice than other manufacturers. PVC or aluminium frames are available both internally and externally with white, anthracite grey or satin black coatings to match existing window frames and the interior decor. Our 'conservaglass' roof glass is also available in a range of colours including blue, clear, aqua and brown. Our roof lantern products use a 25 degree pitch, which is preferred by consumers to the lower 20 degree pitch offered by other brands. The strong ridge and superior spanning performance of Ultrasky products mean that our lanterns use less bars than our competitors', maximising the amount of light that enters the room below. The internal ridge cladding is also elegantly designed to avoid unsightly irregularities that could affect the aesthetics of the room.
Thoughtfully designed
Ultrasky roof lanterns are designed with the installer in mind. We aim to make our rooflights as easy to fit as possible. For example, Ultrasky use tapered fixings and our ridge and internal caps simply clip into place – so there are no short and fiddly screws and no shoring off required. We also provide comprehensive technical support for installers, including a detailed installation guide and an expert advice line providing guidance to all our trade customers 5 days a week.
Buy Skylights Online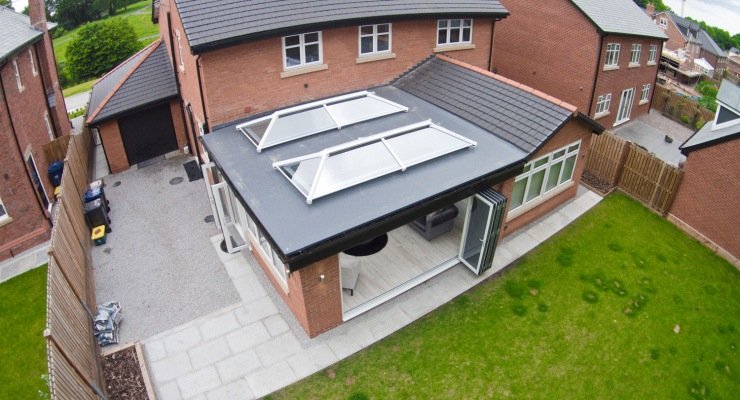 Order your Ultrasky Skylight online now or call 01200 452 246
to speak to the Ultrasky sales hotline.
Order lines open Monday - Friday 9.00am - 5.00pm
Ultrasky Case Studies