Why British Summer is the Perfect Time to Install a Skylight
Date: 16/04/18
Summertime in Britain is a wonderful thing. For a few short months, we're living like Australians, grilling on the barbeque in our shorts and soaking up the rays. But it doesn't last long – soon we're back to autumnal chills and woolly jumpers! It's important to make the most of these summer sunshine months – not only by enjoying our garden, but by taking advantage of the driest season to get the bigger jobs done in our homes.
If you're planning work on your house, summer is generally considered the best time to do it. There are a number of reasons why:
Dry weather means that the roofers and builders will be able to work outside without a problem.
If you're going to have to open out walls and roofspace, you'll be losing a lot of warmth from your home. This is a big problem in winter, but not so much in summer.
Working on the build yourself? Longer summer days can mean that you can complete the job quicker.
The busiest time for builders and roofers is usually spring. By summer they may have better availability.
Going away for a vacation? If you have a building team you trust, you may be able to go away and leave them to it (avoiding all the mess).
Skylight installation is a small job in comparison, if you buy a roof lantern like the units that Ultrasky sell, your builders could be finished within a day. Even so, the advantages of a summer build listed above still apply – you'll need dry weather, you'll be creating a hole in your roof which could let in cold (or rain), and you'll need the product available for delivery exactly when you need it.
Of course, the other reason to install a roof lantern in the summer is so that you can enjoy summer sunshine in your home. And as the seasons change and summer fades, you'll be left with beautiful autumnal and winter sunshine to help you beat those post-summer blues. Buy a roof lantern with Ultrasky and have it ready to make the most of the summer sun.
Buy Skylights Online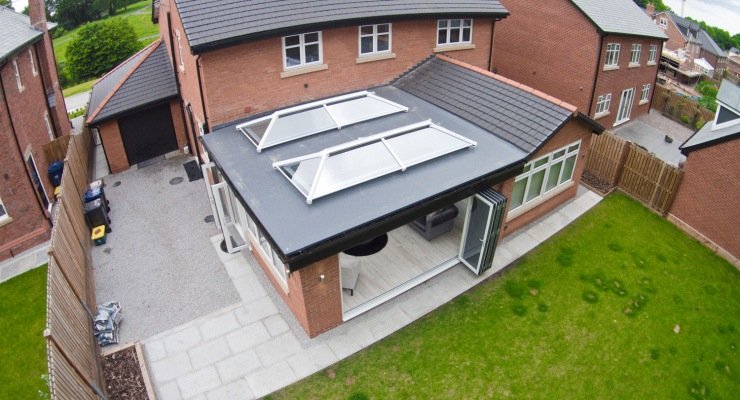 Order your Ultrasky Skylight online now or call 01200 452 246
to speak to the Ultrasky sales hotline.
Order lines open Monday - Friday 9.00am - 5.00pm
Ultrasky Case Studies