You've been framed
Date: 22/08/17
Choosing your Ultrasky roof lantern is a bit like choosing new spectacles. You can pick your frame, your colour and even pick a tint to the glass, to capture your own personal style perfectly.
The thinnest frames
Ultrasky technology gives you a subtle strength that keeps our frames to a minimum. Just like your glasses, you don't want thick edges or chunky sides getting in the way of your eye line. Ultrasky frames are as thin as they can be, giving a remarkably clear field of view and letting the light pour into your home, while still giving you lasting strength.
A choice of material
Just like your new glasses, you can choose your Ultrasky roof light in either plastic frame or metal frame finishes. Aluminium roof lanterns and pvc roof lanterns both deliver excellent thermal efficiency, keeping you cool in summer and warm in winter, and both give you a stylish look that lasts for years, guaranteed.
Pick a colour
Best of all, like all the most stylish specs, you can choose your new Ultrasky roof lantern in a range of different colours, to suit your home and your style, either blending with your existing doors and windows, or contrasting for a decidedly different style statement.
You can choose pvc in fade-free crisp white, or pick powder coated aluminium in pure white, contemporary anthracite grey or stylish satin black. You can even choose a different colour for the inside and the outside for a truly original look. What's more, you can choose from four shades of glass to complete your roof light, with clear, blue, aqua and brown tinted options available.
Whichever you choose, your roof lantern is sure to be a real focal point for your new extension, adding a real sense of style. So choose the specs of your windows, like you choose the specs for your eyes and express your style with Ultraframe.
Buy Skylights Online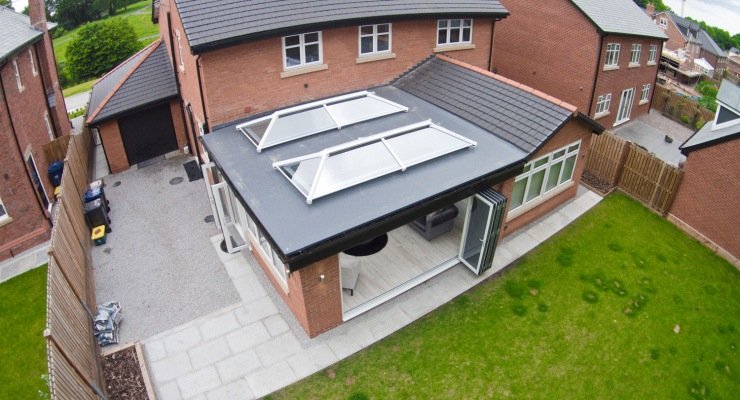 Order your Ultrasky Skylight online now or call 01200 452 246
to speak to the Ultrasky sales hotline.
Order lines open Monday - Friday 9.00am - 5.00pm
Ultrasky Case Studies