Ultrasky Lantern Creates the Perfect Wedding Setting
Date: 30/05/19
Cardiff-based Ultraframe installer, Adenhart, has recently installed two Ultrasky Lanterns onto a stunning contemporary extension.
The extension which is over 10m wide was installed onto the luxury property to provide the perfect setting for a family wedding. The two Ultrasky Lanterns at 3250mm x 1725mm, ensure that the large open-plan room is flooded with natural light and the minimal design of the bars complements the sleek lines of the interior of the room perfectly.
Commenting about the prestigious installation, Ultraframe Marketing Director Alex Hewitt, said: "This recent installation by Adenhart is a fantastic example of how a Lantern can really transform a flat-roofed extension into something extra special. The Ultrasky Lantern is ideal for contemporary extensions as it features 25% fewer bars than conventional glazed roofs and boasts ultra slim components for the ultimate in contemporary aesthetics. Having fewer bars also means that it's the fastest Lantern on the market to fit."
The Ultrasky Lantern is also the warmest Lantern on the market, featuring thermal breaks both inside and out and a thermally insulated eaves rail. This means that it's unrivalled in terms of thermal performance, ensuring a living space that is always a comfortable temperature. It also boasts the strongest ridge on any UK Lantern system, with an IX value of 2.226k.
Buy Skylights Online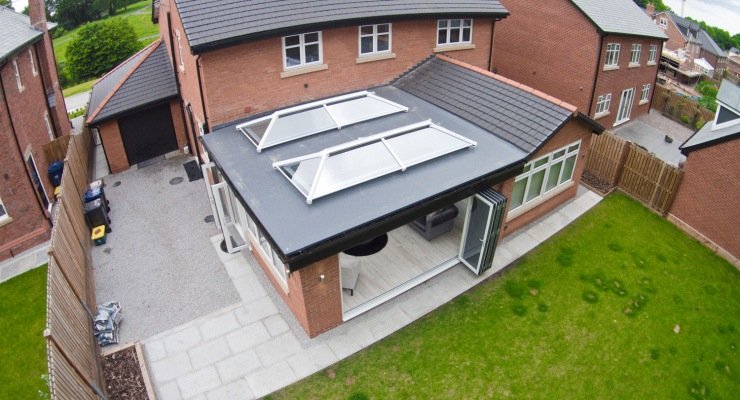 Order your Ultrasky Skylight online now or call 01200 452 246
to speak to the Ultrasky sales hotline.
Order lines open Monday - Friday 9.00am - 5.00pm
Ultrasky Case Studies