Bespoke Skylights: Made for You
Date: 18/05/17
When you embark on a home improvement project you no doubt have a vision of what you want your extension or renovation to look like and how it will transform your home. Finding the products and manufacturers who can turn that vision in to a reality can be a long and difficult process. Off the shelf products may not suit the style or architecture of your property and obstacles such as planning constraints or space limitations may add to the challenge.
At Ultrasky we manufacture our stunning skylights completely from scratch and offer a range of different styles, materials, and sizing options. So you can call off the search, and enjoy choosing a unique skylight that is exactly how you want it.
Made to measure
Our skylights can be built to the exact dimensions that you require (max. 4m long and 2m wide) and can be fitted in new or existing flat roofs. If you are ordering a skylight to fit an existing hole make sure that you measure the space correctly before placing your order – we start manufacturing your skylight within 24 hours of your order being placed, so it's vital that the measurements you supply are correct! Please check our measuring guide for more information or, if you still have questions, ring our friendly customer service team for advice.
Sensitively designed
Ultrasky roof lanterns are elegantly engineered to fit effortlessly alongside your existing architecture. Our timeless, clean designs suit both contemporary and traditional properties and the superior spanning performance of our skylights mean we can use less bars than competing brands, allowing even more light in to the room below.
To help make sure that your new extension or roof lantern is in keeping with the rest of your property, you can choose from white PVC or aluminium options. The aluminium option is available in white, anthracite grey or satin black.
Styled by you
The addition of a bespoke roof lantern can transform your interior, flooding your home with light and creating a new feeling of spaciousness. To complete the effect, it's important that the style and finish of your skylight is of the highest quality. Ultrasky use premium quality Conservaglass glazing which is highly thermally efficient, self-cleaning and contains UV filters to protect your furnishings and upholstery from fading. It is also available in a range of colours for you to choose from including blue, aqua and brown tints. Finally, you can complete your bespoke skylight by choosing the colour of the internal cladding.
When you have selected the size, materials and colours of your skylight to fit your home and style preferences, our expert manufacturers will get to work turning your vision in to reality. Our beautiful bespoke roof lanterns are carefully finished and built to last, with a 10 year guarantee as standard, and can be delivered straight to your site 5 days a week.
And if all those choices sound a little overwhelming, don't worry, our ordering process is designed to be simple and hassle-free. You can order online or call our experienced customer service team who will be happy to discuss your requirements and guide you through the options available. Call us on 01200 452 246 Monday - Friday 9.00am - 5.00pm.
Buy Skylights Online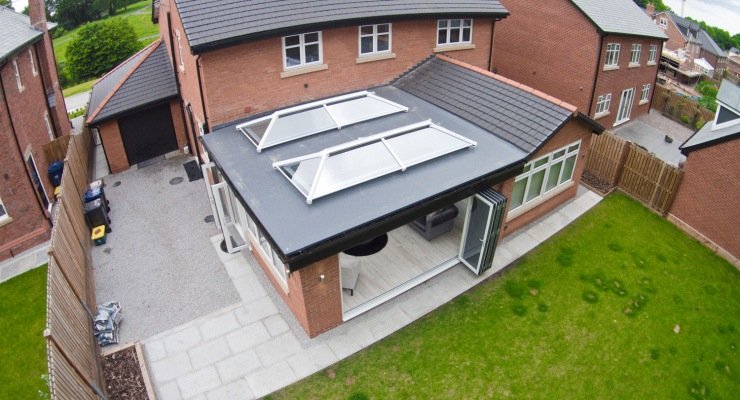 Order your Ultrasky Skylight online now or call 01200 452 246
to speak to the Ultrasky sales hotline.
Order lines open Monday - Friday 9.00am - 5.00pm
Ultrasky Case Studies