Bring the outside in with a bespoke roof lantern
Date: 07/06/17
The barbecue's ready, the drinks are cooling, your guests are on their way…but the clouds are gathering. The Great British summer weather can be unpredictable, but with an Ultrasky roof lantern you don't need to let rain stop play. Our stunning contemporary skylights bring the light and vibrancy of the outdoors in to your home, so that you can enjoy your summer party whatever the weather.
Atmospheric dining
There is something about dining 'al fresco' that makes every meal feel special. Sitting at the table with the sun streaming down can conjure up images of Mediterranean holidays and long summer evenings spent relaxing outdoors. But when you're at home in the UK a chilly breeze or a shower of rain can often take the shine off eating out of doors.
A roof lantern can bring some of the atmosphere of 'al fresco' eating in to your dining area. Positioning a skylight in the centre of your dining room creates a dramatic focal point for the space and with Ultrasky's range of tasteful colours and materials to choose from you can design a bespoke roof light that matches your interior design and architecture perfectly. A roof light above your dining area floods the table below with natural light, giving you a stylish place to host family meals or dinner parties with friends.
Space to socialise
The garden can be an excellent place to host big gatherings. Making use of an outdoor space may mean that you can host larger groups than you could accommodate indoors. But if there is a sudden downpour you might find that the kitchen suddenly feels cramped!
Installing a roof lantern as part of a single storey extension is a great way to expand your home. It can be a cost-effective way of increasing the square footage of your property and may give you the space to host large groups of friends and family, without spilling in to the garden. Roof lanterns bring light in to the heart of your home and help to create a bright, spacious feel for your new living area. The strong ridge and superior spanning performance of Ultrasky products mean that our roof lanterns use less bars than our competitors', maximising the amount of light that enters the room below.
Natural light
Many people think that spending time in the outdoors is good for your health. Sunshine is an important source of vitamin D and natural light can help to set your body clock right, making it easier for you to sleep at night and wake up in the morning. A roof lantern can bring more natural light in to your home than conventional windows or smaller skylights, with significant benefits for your lifestyle. Eating your breakfast in the morning sunshine is an energising way to start the day and with a rooflight in your kitchen or living area you can make this a regular morning routine, regardless of the weather.
Our roof lights use high performance Conservaglass glazing which is highly thermally efficient and has UV filters to block out harmful ultraviolet radiation. This means that when the hot summer days do arrive, you can enjoy the sunshine from the comfort of your living room, without the room becoming overly hot. In the winter our well-insulated units will retain the heat from your central heating, keeping you cosy and warm.
A sunny outlook
We have years of experience in skylight manufacturing (and the Great British weather). We draw on this expertise to design and build roof lanterns that are superior in quality and style, and to deliver an outstanding service for all our clients and prospective customers. An Ultrasky roof lantern could transform your home in to a sunny and sociable space for all the family to enjoy this summer. Why not contact one of our friendly team today to find out more?
Call us on 01200 452 246, from 09.00am – 17.00pm, 5 days a week.
Buy Skylights Online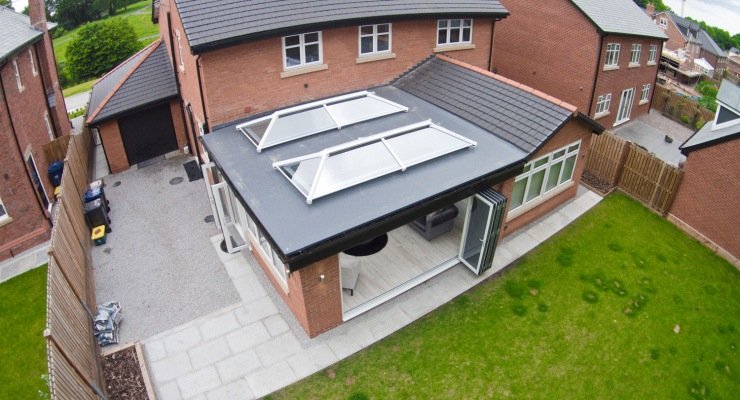 Order your Ultrasky Skylight online now or call 01200 452 246
to speak to the Ultrasky sales hotline.
Order lines open Monday - Friday 9.00am - 5.00pm
Ultrasky Case Studies