Classic or contemporary Roof Lanterns?
Date: 04/01/18
Classic or contemporary?
For some home owners a renovation project is a chance to modernise – transforming an old-fashioned property into a stunning contemporary home. For others a renovation must extend and enhance the classic elegance of their existing home. Whichever you choose, Ultrasky's roof lanterns are beautifully designed with clean lines and a choice of materials which will blend seamlessly with a classic or contemporary aesthetic.
Classic elegance
Adding a roof lantern to your home can be a wonderful way of enhancing your home without encroaching on its traditional style. While traditional interiors can be charming, they may be poorly lit by old, smaller windows. A roof lantern brings natural light flooding in to the room while protecting the historic features of your house. Ultrasky roof lanterns can be easily added to a single-storey extension or an existing flat roof with minimal disruption and our premium Conservaglass glazing has in-built UV filters to protect your furnishings from fading.
Our choice of different glazing tints and claddings make it easy to find a style of lantern that will blend in with or compliment your existing architecture, whether that is our white PVC option or powder coated aluminium in anthracite grey or satin black.
Contemporary beauty
Modern interiors are bright, spacious and airy. They are often defined by simple forms and open-plan spaces. If you dream of creating a contemporary space, then an Ultrasky roof lantern could help you to turn a gloomy, dated room in to a light modern living area. The design of our Ultrasky roof lanterns has been carefully refined by our expert engineers. We use a 25-degree pitch, which is preferred by consumers to the lower 20-degree pitch offered by other brands, and our internal cladding is free from unsightly irregularities or joins. By reducing the number of bars required and improving the spanning performance of our unit, we have created a roof lantern that allows the maximum possible amount of light in to the room below.
The best time to install a roof lantern is in a new flat roof, for instance as part of a single-storey extension. Extensions of this kind are deservedly popular as a cost-efficient was of modernising your home, improving your kitchen or building a new open-plan living area. We offer bespoke sizes and designs of roof lanterns so that you can create a truly unique roof lantern that will be a beautiful centrepiece for your contemporary space.
Visualise your dream lantern
To help you to select a roof lantern that will perfectly fit your property, we have created a handy visualisation tool that will give you an impression of what your bespoke lantern will look like. You can find the tool on our homepage and use it to obtain an instant quote.
If you have further questions or you would like to discuss your requirements with a member of our friendly sales team, call 01200 452 246 today (Monday to Friday, 09.00-17.00).
Buy Skylights Online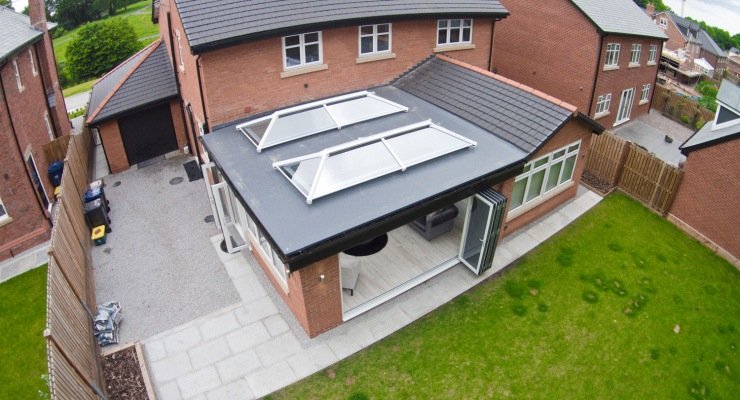 Order your Ultrasky Skylight online now or call 01200 452 246
to speak to the Ultrasky sales hotline.
Order lines open Monday - Friday 9.00am - 5.00pm
Ultrasky Case Studies