Enjoy some winter sun
Date: 14/11/17
As the nights draw in and the weather turns colder, you might be dreaming of some winter sunshine to lift your mood. But before you book flights to Barbados, why not consider investing in a more lasting solution? An UltraSky roof lantern could bring natural light in to your home all year round, helping you feel a little brighter this winter, and the next, and the next…
Make the most of every ray
As we know all too well, the UK winter doesn't give us many hours of daylight. But when the winter sun does shine those bright, crisp frosty days are beautiful. So it's important to make the most of them! A roof lantern is a great way to bring sunshine flooding in to the heart of your home. As it can be located in the centre of a room, a roof light reaches places that traditional windows can't, and the raised lantern design allows light in from every angle.
UltraSky roof lanterns have a superior spanning performance compared to other brands. This means that fewer bars are required to support the glazing, which allows the maximum possible amount of light in to the room below. So with an UltraSky lantern you can really make the most of every drop of sunlight that peeps through the clouds.
Stay cosy
Our experienced designers and engineers have created a roof lantern that is not only elegant, it also outperforms the competition on thermal efficiency. When you turn up the central heating in the winter months, you don't want precious warmth to be lost through your windows. Ultrasky use a thermally broken ridge, insulated bars and highly thermally efficient Conservaglass glazing, to help keep your home warm and comfortable.
Built to last
A holiday may give you a few weeks of hot weather, but an UltraSky lantern could bring you sunshine for years! We use only the highest specification materials in our roof lanterns, from our aluminium or PVC frames to our superior quality glazing. We are so confident in the lasting quality of our product, that we offer a free 5 year (for coated/painted designs) or 10 year (for unpainted) guarantee to all our customers.
When you buy an UltraSky roof lantern, you will know that you are investing in a beautiful product that will enhance your home and brighten your days for many years to come. Spare yourself the long haul. Treat yourself to a roof light instead.
Call 01200 452 246 today to speak to the Ultrasky sales hotline or use our online price calculator to get an instant quote.
Buy Skylights Online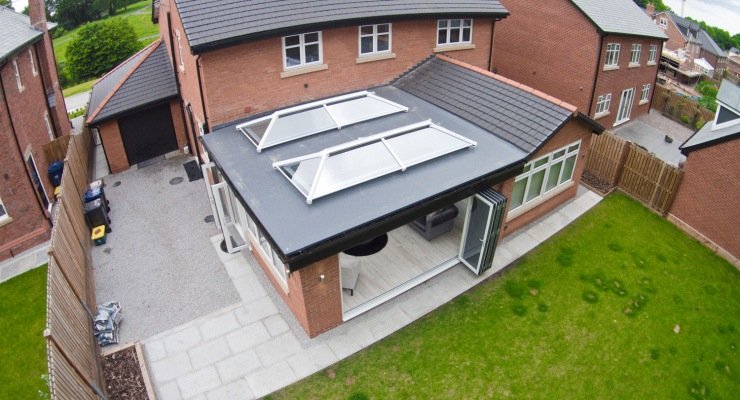 Order your Ultrasky Skylight online now or call 01200 452 246
to speak to the Ultrasky sales hotline.
Order lines open Monday - Friday 9.00am - 5.00pm
Ultrasky Case Studies